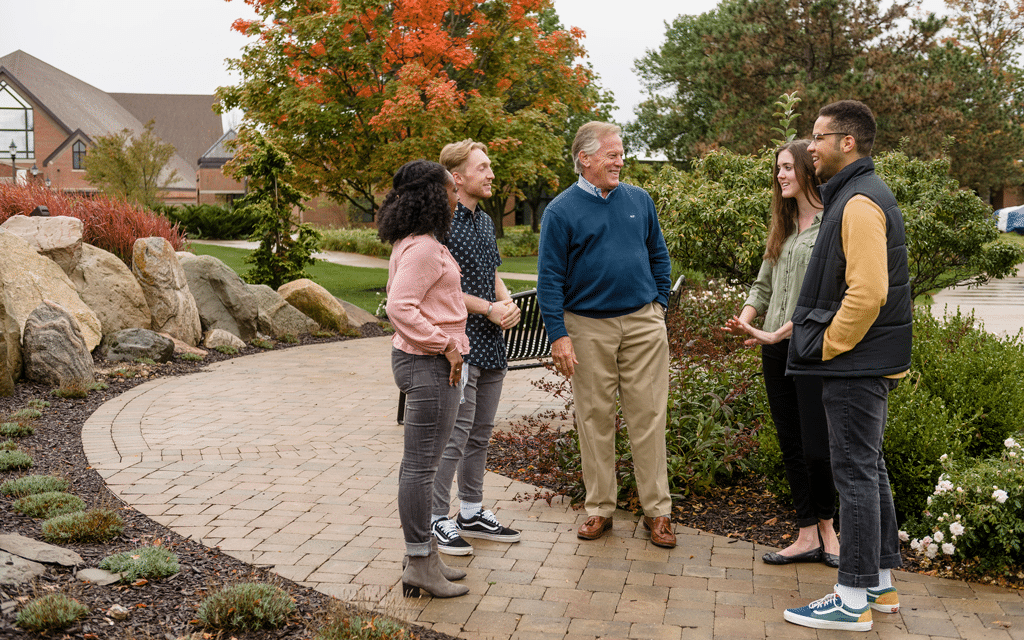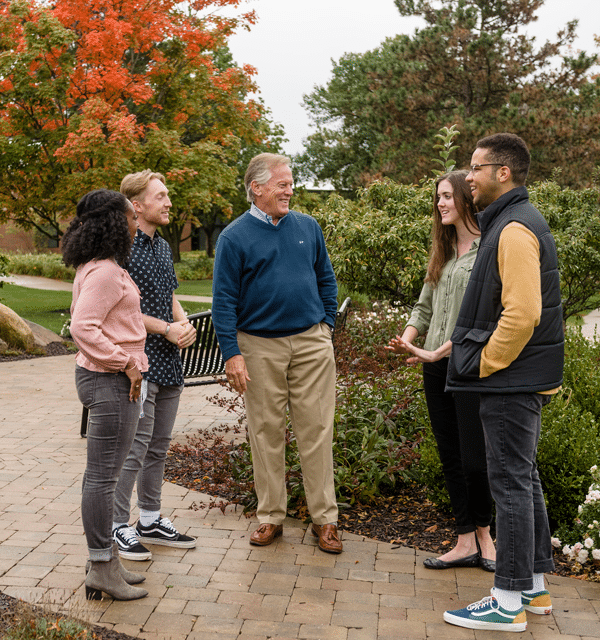 Cornerstone University

Honoring a Legacy
Retirement Guest Book
for Dr. Joe Stowell
Read messages from Cornerstone University alumni as they share ways that Dr. Joe Stowell has shaped the culture of Cornerstone.
Mike Kildal (B.R.E. '82)
"I was a brand-new believer at GRBC in 1978. I felt like a fish out of water much of the time because I didn't know the Bible like the other students around me. In hindsight, I realize I wasn't alone.
"I remember leaving my room in Quincer and going down the hill to chapel (then held in the gym) and hearing this pastor from Kokomo, and it was you, Joe. You made the Scriptures make sense to me.
"I remember having dinner with your dad once in Niagara Falls, and we talked about his son. It was you, Joe. You were his pride and joy.
"I remember picking a visiting speaker for chapel when I was on staff at The Master's College. It was you, Joe. I was excited to chat with you on the short car ride.
"I remember going to Chicago for a pastor's conference every year with the pastoral staff at my church in Dayton, Ohio. There was always good content and great worship, but the best message was always on Monday nights; it was you, Joe. You were always 'our pastor' during those weeks.
"There was the year when I got an email announcing that my college was bringing in a new president … it was you, Joe. I was proud that you chose to lead my school. As an alumnus, I looked forward to hearing what God was doing on the corner of the East Beltline and Leonard Street.
"Thank you for following Christ and leading well."
Jim Farrell (B.A. '88)
"I can't begin to share all the ways you have been a great blessing to me and to CU! The Lord brought you to us at the perfect time, and your faithfulness to Jesus Christ has allowed you to do extraordinary things here. What a great season it has been.
"I always appreciated your willingness to sit down and talk at lunch or show up and watch a softball game. That meant so much to me. I also have loved to sit under your teaching and preaching, beginning back when I was a student in the early '80s at Bible Conference. I also always enjoyed hearing your dad preach back in Colon, Mich. I can still hear that voice.
"Please know that you are deeply loved and respected by myself and also my family. Mom and dad have always loved you and ask about you often.
"You continue to be a source of encouragement to me, and I will forever be grateful for the opportunity to know you and serve Christ along with you."
Dan Treier (M.Div. '96, Th.M. '98)
"What a delight to celebrate the fruitfulness of your years in leadership at Cornerstone! God has been faithful and generous to the school through you. And you have been a creative and faithful steward of what God has entrusted to you. You have fought the good fight, finished the race and kept the faith. Well done, faithful servant, and thanks for sharing your infectious joy—that twinkle in your eye—with so many of us for so long."
Jeffrey Cousins (B.S. '04)
"We have all been honored and blessed to have you as our leader. Also, as the father of several Cornerstone students, the way you mentored and interacted with my children personally will never be forgotten."
Kelamenter Smith (A.S. '05, B.S. '07)
"It is my prayer that new beginnings follow you with great success. Thank you for your time as a leader of this great university. You have touched so many lives and seen a lot of growth in others. I am honored to have been a part of your journey. Don't stop writing and sharing what is embedded in you. Enjoy your new endeavors!"
Beth Redford (B.S. '08)
"I will never forget your demonstration of humility when you presented me my diploma. I am a wheelchair user, and you got down on one knee to present my diploma to me on stage."
Elaine Willis (A.S. '14, B.S. '20)
"I am sure so many people have said wonderful things about you. What else can I say but thank you for giving to the Lord all these years. Because you gave, a difference was made in my personal educational experience. I loved attending Cornerstone University because of the Christ-centered approach and environment. By you allowing God to use you in this realm, my life was enriched and blessed—even to this present day. God be with you in the next chapter in life, and continue to bring forth precious fruit for His glory!"
Tanner Frey (B.S. '16)
"Thank you so much for your time and tremendous contribution to Cornerstone! I will never forget the way you made every student feel so important and valuable. You led with wisdom, humility and passion, and I have been blessed to know you. I pray God will continue to bless you in this next season of your life. Thank you for everything you've done for me and this university."
Rachel Wilkinson (A.A. '16, B.S. '16)
"When I was a student, there was a popular T-shirt worn by many a CU student that read 'Joe Stowell my heart.' I think every person who meets Dr. Stowell needs one of those shirts; his kind heart, sense of humor, love for Jesus—to name a few of his best qualities—are so contagious one cannot help telling the whole world about him. I always appreciated that Dr. Stowell was so interested in students. And I don't mean he just smiled and waved at each student he passed by (though he did that too!); he was genuinely interested in getting to know students personally. When he wasn't too busy, he would come to the Corum or caf and sit and talk with students, listen to them, ask how they were doing. It seems like such a small thing, especially considering all the big things he has done for the university, but it has made a world of difference in the lives of young adults (including myself) who are trying to figure out their place in the world and God's calling on their lives."
Tammy Erste (B.S. '17, M.A. '20)
"Thank you for the wonderful opportunity to grow in my faith and walk with my Lord and Savior, Christ Jesus, through my studies. Through Cornerstone University and the encouragement of you and the entire community, I extend my deepest thanks and gratitude for the dedicated work of you all. May the Lord bless you and keep you; the Lord make His face shine upon you and be gracious to you; the Lord lift up His countenance upon you and give you peace all the rest of your days."
Leah George (B.A. '20)
"I will be forever grateful for the opportunity to get to know you during my time at Cornerstone. Thank you for welcoming me and other President's Partners into your home. You made us feel cared for and known during our busy college years. Your love for students and for Christ is so evident in the way you interact with students. Thank you for helping to make Cornerstone feel like home. May the Lord bless you as you move forward."
Cornerstone University
Hours
MON - FRI: 8 a.m. - 5 p.m.
SAT & SUN: Closed
Want to Learn More About CU?
Connect With CU