Cornerstone Announces Plans for 2020 and 2021 Commencement Ceremonies

During the first two weekends in May, Cornerstone University will host a series of commencement ceremonies for the classes of 2020 and 2021. The seven different events will honor graduates from its traditional undergraduate, Professional & Graduate Studies and Grand Rapids Theological Seminary programs.
Due to the COVID-19 pandemic, Cornerstone cancelled last May's in-person commencement ceremonies. The rescheduled ceremonies and new 2021 dates will comply with current state and local health guidelines while providing space for students to celebrate and commemorate their time at Cornerstone. As of today, attendance restrictions will allow for 500 people to attend each ceremony in Cornerstone's Bernice Hansen Athletic Center.
"The last 12 months have been extraordinarily challenging," said Dr. John VerBerkmoes, executive vice president for academics at Cornerstone. "One of our disappointments last year was being unable to honor the 2020 graduates who had persisted to graduation in person. Despite 2021 still presenting challenging circumstances, we are not deterred in our desire to recognize these graduates. This 'double commencement' culminates in a relentless intent to celebrate 2020 graduates along with the class of 2021."
The new dates for this year's commencement ceremonies will be as follows:
Friday, April 30 at 7 p.m.: GRTS class of 2020 and 2021 commencement ceremonies.
Saturday, May 1 at 10 a.m.: PGS class of 2021 (undergraduate degrees).
Saturday, May 1 at 1 p.m.: PGS class of 2020.
Saturday, May 1 at 4 p.m.: PGS class of 2021 (graduate degrees).
Saturday, May 8 at 10 a.m.: Undergraduate class of 2021 (Bible, Religion & Ministry Division; Business Division; Communication, Media & Music Division; and Humanities Division).
Saturday, May 8 at 1 p.m.: Undergraduate class of 2020.
Saturday, May 8 at 4 p.m.: Undergraduate class of 2021 (Interdisciplinary Studies Division; Kinesiology, Science, Engineering & Mathematics Division; Social Science Division; and Teacher Education Division).
University president Dr. Joe Stowell will deliver the commencement addresses. Stowell will retire in May after 13 years as Cornerstone's president.
"The class of 2020 and 2021 have faced an unparalleled array of circumstances," VerBerkmoes said. "Celebrating their achievement will be incredibly special."
Cornerstone volunteers, faculty, staff and graduates will follow standard COVID-19 protocols, including physical distancing and wearing masks. The Hansen Center will also be cleaned thoroughly between each ceremony. Each event is ticketed, and students will receive information on how to reserve tickets.
"Last spring when we surveyed the 2020 class regarding how they desired to celebrate commencement in this season of COVID-19, there was a clear message to us that they preferred a live, in-person event," said Bob Sack, vice president of advancement at Cornerstone. "While some grads have since moved to other locations which makes a return to Grand Rapids difficult, the majority of graduates have indicated plans to attend."
Along with the adapted commencement ceremonies, each in-person ceremony will be livestreamed and available to watch on Cornerstone's website.
More information will follow regarding how the class of 2020 can access their tickets and how volunteers can sign up to serve.
"These plans were finalized within the framework of current COVID-19 executive orders," said VerBerkmoes. "Obviously, with the fluid nature of the COVID-19 pandemic, plans are subject to change. However, we are optimistic that this concept will occur."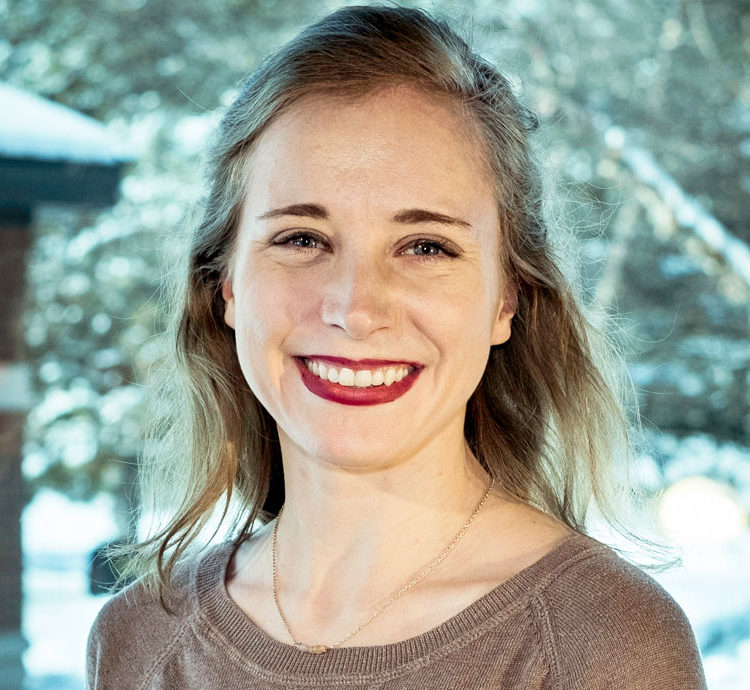 Audrey Wierenga
Audrey Wierenga (B.A. '18) is the copywriter for Cornerstone's Marketing & Communications Office. She graduated from Cornerstone in 2018 with a degree in broadcast communication. Audrey also serves on the Young Alumni Council.
In her spare time, Audrey enjoys working on her own full-length work of fiction, co-hosting a podcast about the Academy Awards and participating in local theatre productions.
Want to Learn More About CU?
Connect With CU