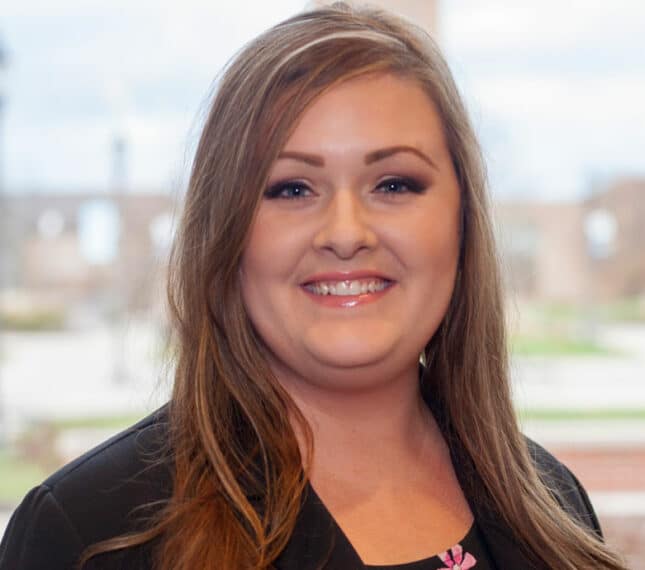 Education
B.S., Business Administration, Oklahoma Wesleyan University
Associate in Christian Ministry, Oklahoma Wesleyan University
Biblical Studies Diploma, Rhema Bible Training Institute
Amanda Colegrove
Assistant Director of Adult & Graduate Admissions
Enrollment Counselor (M.A. in Clinical Mental Health Counseling students)
Professional & Graduate Studies Enrollment Office
Education
B.S., Business Administration, Oklahoma Wesleyan University
Associate in Christian Ministry, Oklahoma Wesleyan University
Biblical Studies Diploma, Rhema Bible Training Institute
Amanda Colegrove serves as the assistant director of adult and graduate admissions. In her role, Amanda provides encouragement and information as students learn about, apply and enroll in a degree program.
Amanda's passion for students is evident through her over 10 years of experience in recruitment, student and customer services and sales experience in higher education. With a background in ministry studies, she loves serving students to be empowered with both a quality academic experience and personal mentorship and community to help students discover God's purpose for their lives.
"My favorite question is, 'What do you want to do when you grow up?' I love hearing people's stories and about their passions, seeing their gifts and abilities and helping them get to where they want to go. Education is an excellent catalyst for achieving one's goals! As an adult learner myself, I have been where my students are. I am proud to be able to offer busy adults the opportunity to earn their degree, while still being able to balance work and family. However I can help, I'm all in!"
Contact Info
Phone:

616.226.5998

Location:

300 E Beltline Ave, Grand Rapids, MI 49506
Hobbies
WORSHIP TEAM VOCALIST/CHOIR TEAM MEMBER
SPENDING TIME WITH HER FAMILY
SAMPLING NEW FRAGRANCES
WATCHING HGTV'S "FIXER UPPER"
Interests
CAREER COUNSELING AND ASSESSMENTS
ENTREPRENEURSHIP
BIBLICAL STUDIES
INTERIOR DESIGN
PHOTOGRAPHY
HELPING KIDS WHO ARE IN NEED OF A FAMILY
Recognitions
Member of the Rhema Alumni Association
National Honors Society in college
Want to Learn More About CU?
Connect With CU