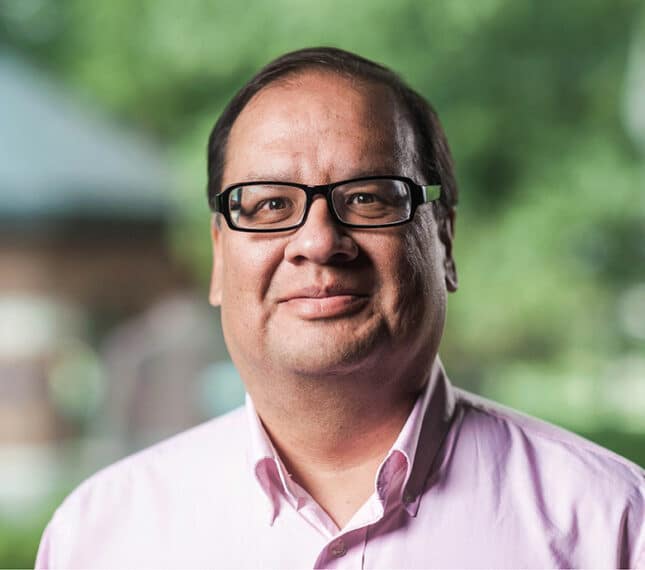 Education
M.A., Strategic Communication, Michigan State University
M.A., Interdisciplinary Studies, Grand Rapids Theological Seminary (2012)
B.S., Business Management, Cornerstone University (2006)
Joel Hill
WCSG News Announcer
Adjunct Professor of Business Communication
Education
M.A., Strategic Communication, Michigan State University
M.A., Interdisciplinary Studies, Grand Rapids Theological Seminary (2012)
B.S., Business Management, Cornerstone University (2006)
Joel Hill was born in western New York on a Native American reservation. His father was in the U.S. Marines, and they traveled around the East Coast and Midwest, eventually settling in central Wisconsin. During high school, Joel wrote for the school newspaper and yearbook and then went to school to study broadcast journalism.
Joel has been with WCSG for decades, and it's given him the opportunity to meet hundreds of fascinating news-makers and travel to unique places, including a war zone and one of the richest countries on the planet. Working with multiple interns from schools like Cornerstone University, he pours his experience into them in an effort to give them a better start on their career, and he has found it to be a tremendously gratifying experience.
In addition, Joel serves as an adjunct professor of business communication at Cornerstone University.
"I wanted to be in journalism since when I was in kindergarten and first saw Kermit the Frog on Sesame Street interviewing people on the street. God not only fulfilled that little dream, He's used it to allow me to be a part of sharing the gospel and encouragement with listeners in West Michigan and around the world. I've seen the impact WCSG/Cornerstone has had on people, and it's undeniable that God is at work!"
Hobbies
GRILLING (PREFERABLY SLOW COOKED BBQ)
TRYING NEW FOODS
FINDING A QUIET PLACE IN A BOOKSTORE TO READ
WORKING ON HOME IMPROVEMENT PROJECTS
Related News, Events & More
Want to Learn More About CU?
Connect With CU