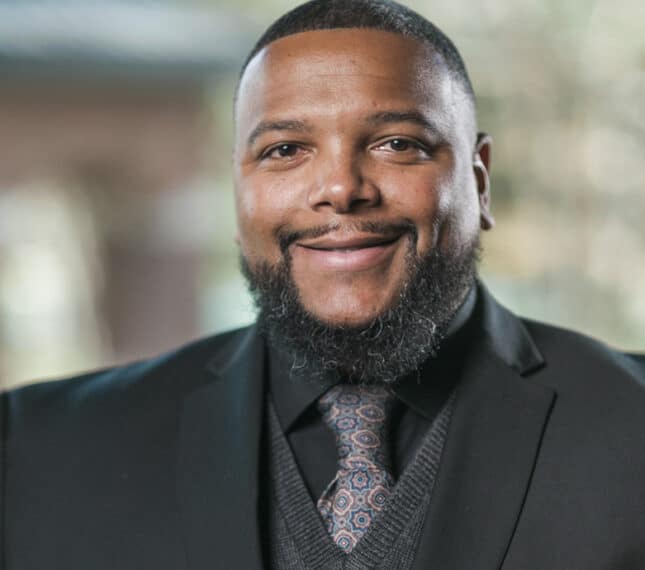 Education
MBA, Liberty University (2006)
B.S., History, Liberty University (2005)
Kevin Lavender Jr.
Assistant Vice President for Diversity, Life Calling and Christian Community
Spiritual Formation & Christian Community
Education
MBA, Liberty University (2006)
B.S., History, Liberty University (2005)
Kevin Lavender Jr. serves as assistant vice president for diversity, life calling and Christian community at Cornerstone University. He brings his expertise in leadership, academic advising and career development to his role. Kevin is passionate about seeing students grow and develop in their calling as they pursue careers that are perfect for them.
Kevin received his Bachelor of Science in history from Liberty University, followed by his Master of Business Administration. He is also a certified Global Career Development Facilitator through the National Career Development Association. Kevin previously worked as a pathway advisor and adjunct instructor at Kalamazoo Valley Community College.
Kevin is passionate about education as well as strengthening fathers, families and community. He does this through his community outreach work with the Fatherhood Network (FHN), which he founded in 2015. The FHN is a support group for dads and their families and consists of a team of dads from the Kalamazoo community. They host regular family outings, parenting classes, men's health check-ins, Barbershop Talk and one-on-one dad coaching support. In his spare time, Kevin enjoys reading, traveling, spending time with his three beautiful daughters (Alexia, Amaya and Naomi) and playing golf with his friends and colleagues.
Want to Learn More About CU?
Connect With CU