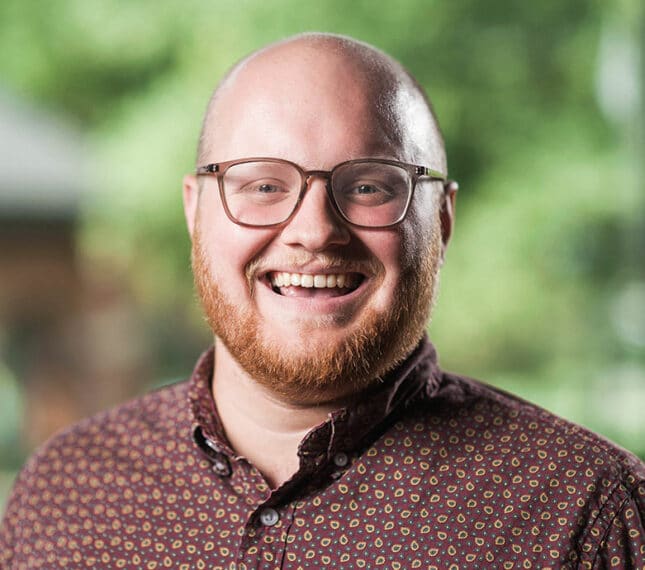 Education
M.M., Music Production, Berklee College of Music (2021)
B.A., Audio Production and Worship Arts, Cornerstone University (2019)
Research Interests
Modern music production techniques
Modern and global jazz theory
Emerging audio and music technologies
Owen Longjohn
Assistant Professor of Audio & Music Production
Audio-Visual Technician
Communication, Media & Music Division
Education
M.M., Music Production, Berklee College of Music (2021)
B.A., Audio Production and Worship Arts, Cornerstone University (2019)
Research Interests
Modern music production techniques
Modern and global jazz theory
Emerging audio and music technologies
Owen Longjohn serves as the assistant professor of audio and music production for Cornerstone University. As a professor, Owen teaches courses in audio for music, media and film, while also teaching courses in live audio-visual production and music technology. In addition to his role as faculty, he also supervises all student internships for the Communication, Media & Music Division and coordinates AV for all Music Division events.
Owen received his Bachelor of Arts in audio production and worship arts from Cornerstone University. In his time as a student, Owen was an active member in various university ensembles as an instrumentalist (trombone, bass guitar) and vocalist, while also serving as a worship leader for his last three years. Owen also was an active songwriter and producer in his time at Cornerstone, releasing two EPs alongside a couple of his classmates.
In his time since graduating from Cornerstone, Owen has been active as a music producer and writer, continuing to record and collaborate with local artists while releasing several singles and EPs as an executive producer. Owen is also an active session musician and for-hire bassist in the West Michigan area.
Owen received his Masters of Music in music production from Berklee College of Music in September 2021, studying under a number of esteemed producers such as Enrique Gonzalez Müller, Susan Rogers and Prince Charles Alexander. As his culminating project, he wrote and recorded a collaborative EP of four multilingual Gospel songs under the title "Tzaddiqim Gospel Collective."
In addition to his role as a member of faculty at Cornerstone, Owen is also the worship coordinator and tech director at Tabernacle Community Church, a multicultural congregation located in the Alger Heights neighborhood of Grand Rapids. Owen loves to share his experience working as a tech director with his students, providing additional opportunities to learn and grow in using audio and music for the purposes of fruitful ministry. Owen lives in Grand Rapids with his wife, Alyssa.
Hobbies
Cheering for the Chicago Cubs
Collecting and listening to vinyl records (new and old)
Cataloguing Grand Rapids restaurants with his wife in their "food journal"
Discography and Website
Owen Longjohn Productions
Want to Learn More About CU?
Connect With CU