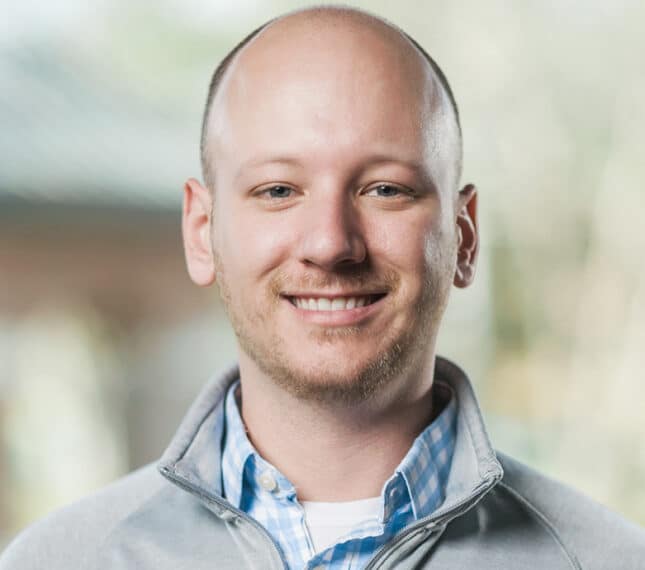 Education
M.S., Information and Communication Sciences, Ball State University
B.A., Business Administration, Taylor University
Campus Involvement
Campus Risk Management Committee
Athletic Department Leadership Team
Peter Bryant
Assistant Athletic Director for Facilities and External Relations
Education
M.S., Information and Communication Sciences, Ball State University
B.A., Business Administration, Taylor University
Campus Involvement
Campus Risk Management Committee
Athletic Department Leadership Team
Peter Bryant serves as the assistant athletic director for external relations and facilities. In his role, he supervises athletics event logistics and staff and ensures that student-athletes have the equipment and facilities they need to play at their best. Bryant also oversees athletic facility rentals with various clubs and leagues in the Grand Rapids area.
Bryant is a graduate of Taylor University with a Bachelor of Arts in business administration with a focus on sports management and marketing. He then went on to Ball State University to complete his master's in information and communication sciences with a focus on business systems and technology. He previously served as vice president of operations at Eagle Wings Inc. and a premium experience ambassador at Pacers Sports and Entertainment, providing event support for Pacers and Fever games, concerts, high school athletic events and collegiate athletic events
In his spare time, Bryant enjoys traveling and spending time with family and friends in the West Michigan area.
Hobbies
Riding and working on motorcycles
Scuba diving
Spending time outdoors either hiking or camping
Working major NCAA and professional sporting events with the Indiana Sports Corporation
Licenses and Professional Memberships
Member of the National Association of Collegiate Directors of Athletics
Collaborative and Institutional Training Initiative Certificate (University of Miami)
Member of the North American Society of Sport Management
Related News, Events & More
Want to Learn More About CU?
Connect With CU