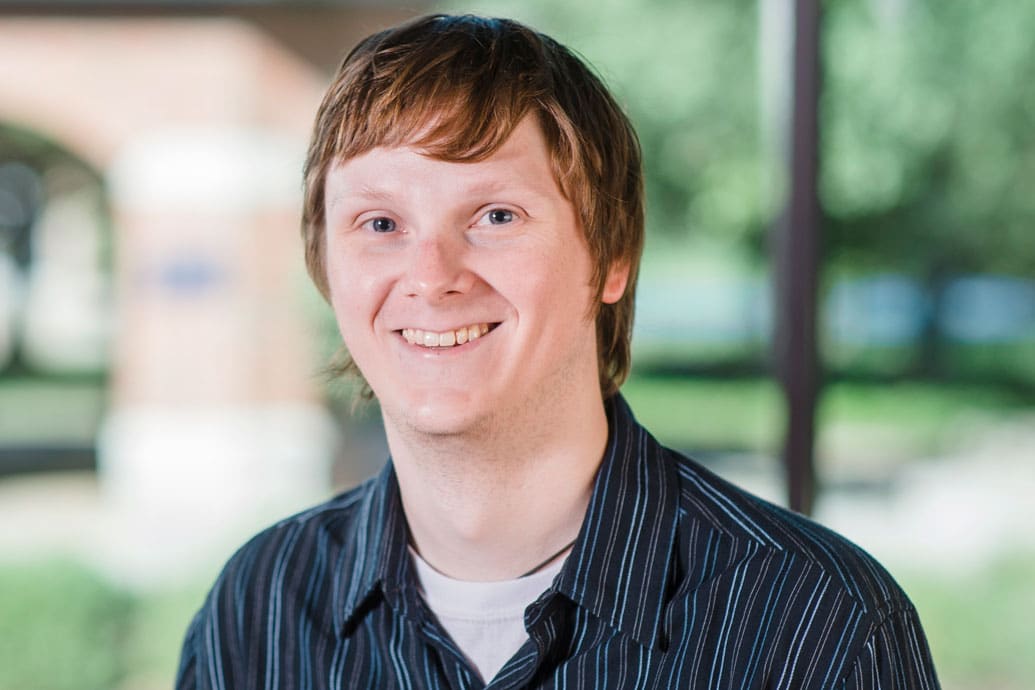 Education
Ph.D., Theoretical Mathematics, Western Michigan University
M.A., Mathematics, Western Michigan University
B.S., Mathematics, Cedarville University
Stephen Devereaux, Ph.D.
Assistant Professor of Mathematics
Traditional Undergraduate Computer Science, Engineering & Mathematics Division
Education
Ph.D., Theoretical Mathematics, Western Michigan University
M.A., Mathematics, Western Michigan University
B.S., Mathematics, Cedarville University
Dr. Steve Devereaux is assistant professor of mathematics at Cornerstone University. Dr. Devereaux encourages his students to look at mathematics as more than abstract ideas but as evidence of God's design. He is determined to help his students understand mathematical principles and deepen their faith. He teaches upper-level mathematics courses, including multivariable calculus, real analysis and senior capstone courses.
Dr. Devereaux attended Cedarville University, where he received his Bachelor of Science in Mathematics. He also served as an adjunct professor at Cedarville. He then received his Ph.D. in Theoretical Mathematics from Western Michigan University, where he was also a graduate assistant.
In his free time, Dr. Devereaux plays piano for his church, writes songs and designs video games. He lives in Grand Rapids with his wife, daughter and dogs.
Hobbies
Writing songs and poetry
Playing piano at home or at church
Designing and programing video games
Practicing street magic and sleight of hand
Inventing games with dogs and/or a small child
Campus Involvement
CELT
Celebration of Scholarship Committee
Computer Science, Engineering & Mathematics Division Chapels
Publications
Color-connected graphs and information-transfer paths (with G.Chartrand and P. Zhang). Ars Combinatoria. Accepted on Nov. 4, 2016.
Color connection in graphs intermediate to proper and rainbow connection (with G. L. Johns and P. Zhang). Journal of Combinatorial Mathematics and Combinatorial Computing. Submitted on Dec. 18, 2016.
k-Rainbow Hamiltonian-connected graphs (with Z. Bi, A. Byers and P. Zhang). Congressus Numerantium. Submitted on March 27, 2017.
Rainbow disconnection in graphs (with G. Chartrand, T. Haynes, S. Hedetniemi and P. Zhang. Discussiones Mathematicae Graph Theory. Volume 38 (4). June 2018.
On k-rainbow connection in graphs (with Z. Bi, A. Byers and P. Zhang). Congressus Numerantium. Submitted on April 11, 2017.
Color-Connected Graphs and Information-Transfer Paths. Dissertation. December 2017.
A Note on k-Rainbow Connection in Trees (with A. Byers, G. Johns, and P. Zhang). Submitted April 2018.
Presentations
Presented at the 48th annual Southeastern International Conference on Graph Theory, Combinatorics, and Computing. March 8, 2017. On k-Rainbow Colorings in Graphs.
Licenses and Professional Memberships
American Mathematical Society
Want to Learn More About CU?
Connect With CU