Listen, Learn, Love:
The Importance of Honest Conversations in a Kingdom Community

During a chapel message on Sept. 18, new traditional undergraduate campus pastor Artie Lindsay Sr. (Th.M. '04) stood in front of a COVID-restricted gathering of students in Christ Chapel. With the students all wearing masks and distant from one another, Pastor Artie understood the complex stress the students were under beyond their schoolwork—that of a global pandemic plus broader social justice and political divisions occurring across the country. His message, his reminder, his charge to everyone present was simple: Put on love.
"The overarching concern of the Gospel is the call to love," said Pastor Artie, citing Cornerstone University's verse of the year, John 13:34-35.
These days, this is not the sort of teaching that the world at large seems to be following. 2020 has brought its share of hardship—isolation, anxiety, unrest and division—which has the ability to bring out the worst in people.
Pastor Artie's call to love on that September morning was a challenge for the CU community to flip the narrative—to be more like Christ and less like the world. This radical way of living—one in which we intentionally decide to listen, learn and love—is exemplified in the Cornerstone community by faculty, staff and students alike.
To further discuss that call, five voices from across Cornerstone's campuses provided insight regarding how the community is engaging in political and social conversations on campus. Participants included:
Dr. Joe Stowell, president of Cornerstone.
Stephane Keo (B.S. '21), student body president for traditional undergraduate academics.
Daishaun Hardnett (B.A. '22), student body vice president for traditional undergraduate academics.
Jo Anna Kelly (M.A. '19), director of admissions for Grand Rapids Theological Seminary.
Connie Sattler (M.S. '13, M.B.A. '16), assistant dean of CU's Professional & Graduate Studies.
WHAT SCRIPTURE DO YOU TYPICALLY TURN TO FOR INSIGHT ON SOCIAL JUSTICE?
JS: The Old Testament is full of messages on justice. I look especially at Isaiah 58. Israel is keeping all the rules. They are fasting, making sacrifices. And God says, "Is it not the kind of fasting I have chosen to loose the chains of injustice?" I also look to the life of Christ. He spent His entire ministry reaching out to the marginalized. His love embraced all of the despised and marginalized people.
DH: I recently read through the book of Isaiah and considered how it talks about justice, restoration, reconciliation and judgment. A lot of the issues back then don't exactly reflect the modern world, but the foundation is the same. I also go back to James 1:19: "Everyone should be quick to listen, slow to speak and slow to become angry."
NO MATTER WHAT OUR SOCIAL OR POLITICAL VIEWS, HOW CAN WE BE CHRIST-LIKE WHEN WE ENGAGE IN THESE CONVERSATIONS AND THINK CRITICALLY ABOUT THESE ISSUES?
CS: Scripture tells us that "Everyone who calls on the name of the Lord will be saved" (Romans 10:13). He does not exclude Jew or Gentile. If the Jews and Gentiles could love and serve one another, even though they looked and spoke differently and had different upbringings, then so can we. God's mandate is for us to learn to get along. It's non-negotiable.
JS: It comes back to identity. Our primary identity is a citizen of the kingdom of heaven. I have a King who is ultimately victorious, so despair is not in my vocabulary. That way of identifying ourselves and where we belong lifts us above the divisiveness, making everything secondary.
DH: When we engage in these conversations, we have to take time for self-reflection. We're humans. We have our biases and our prejudices, the way we grew up and why we view things in such a way. Oftentimes, we feel like since this is the way that we grew up, this is the only way. It's important to be mindful and aware, to check yourself when you become defensive. We need to consider who's been oppressed, who's under certain circumstances that are oppressive, and how can we put ourselves in those shoes? That's literally what Jesus did. Jesus put himself in our shoes.
WHAT SORT OF SOCIAL ISSUES ARE DISCUSSED MOST OFTEN ON CAMPUS?
JS: We often discuss how to respond and minister to marginalized people groups. We are working toward understanding and reaching out to empower them. This has been the main area of focus in this season.
SK: In chapel, we have discussed multicultural worship and problems with systemic racism. A lot of students have done research throughout the summer about this issue.
JK: I honestly wish more social issues were discussed on campus. Unfortunately, I often see many people shy away from social issues as they're often seen as impolite or divisive. In GRTS Admissions, we typically discuss what we're seeing in the news on a weekly basis. We discuss local and federal government, elections, race, gender and LGBTQ+ issues, all from a biblical perspective. They're discussed openly with charity for everyone's differing opinions. Our office makes a concerted effort to create safety for healthy conversations, disagreements and the elevation of marginalized voices.
WHY IS HEALTHY DEBATE IMPORTANT ON A COLLEGE CAMPUS?
DH: It's one of the more important things that we can take away from our college experience. It can prepare us for having conversations with unbelievers in our future workplaces. There are lots of different perspectives on campus. If you can learn to engage in healthy conversations here, it may help you in ways you may not even know yet.
SK: I think we use CU as a shelter sometimes, but it's important to dive into these conversations in college. Our community is very gracious and understanding; we can hear someone else's opinion and not be hostile about it. College is a good practice field where we can make mistakes because we are surrounded by believers.
JK: We're a higher learning institution. It's important to model for our students the ability to grapple with new ideas and confront biases. Learning to dissect ideas while also treating others with dignity is yet another crucial skill to learn, no matter your stage of life. Debates are not opportunities for hostility but are opportunities for us to learn together.
HOW DO WE EMBRACE OTHER PEOPLE'S PERSPECTIVES WITHOUT BECOMING DEFENSIVE?
DH: When I think of "defensive", I think of someone feeling like they're being attacked. The best thing to do when a conversation turns is to not just end it and go separate ways. I think it's good to pause and pinpoint what made you go off. What made someone heated? What did they say or do that ticked me off that went against what I believe or how I was raised? It's usually something personal that gets people ticked off. Getting to that "why" is important.
JS: This is a tough hurdle. Part of being in a college environment is learning this skill. We all hold our perspectives so dearly. We learn when we listen to others without being defensive. As we drop our defenses to be listeners—we should listen more than we speak—we realize that maybe our point of view needs to be revised. The truth is we are all highly defensive people. And we all hold our points of view very dearly, but we have to be willing to put those aside in order to relate to one another.
JK: It comes down to taking the posture of a learner at all times. But more than this, I think it's important to listen to what our defensiveness is telling us. If I'm feeling angry and defensive, that is typically telling me something important about myself, not others. In counseling, we talk about anger being a secondary emotion. Has something in the conversation activated shame, embarrassment or fear, for example?
HOW DO WE ENCOURAGE CIVIL CONVERSATIONS ABOUT POLITICAL AND SOCIAL ISSUES ON CAMPUS?
CS: It's important to be intentional about creating safe spaces on campus to discuss these issues. At CU's Professional & Graduate Studies, we infuse community members who are in positions to speak on these topics and invite personal discussions. If we are prepared, have experienced facilitators present and protect the unity of being one in Christ, we will be able to effectively engage and involve students.
JK: I think we encourage conversations about important social issues by first recognizing that these are not intellectual or philosophical thought exercises. In an academic environment like the seminary, it's important to remember that these are not just opportunities for critical engagement or self-improvement. Political and social issues affect our community in life-altering ways. We have co-workers, members of our church and loved ones who are personally affected by "political issues." The body of Christ needs to recognize that we are all affected by the brokenness of the world.
OUR CALL TO LISTEN, LEARN AND LOVE
Political division is not a new issue, and neither is racial injustice. But as Christians, we must embrace this opportunity to flip the narrative. What do these conversations and debates look like in Christian circles? How can these conversations promote lasting relationships and lasting change? We must listen, learn and love:
LISTEN.
Listen to the Word of God and other trustworthy, biblical voices. It's important, as Sattler said, to listen to those who are knowledgeable on the topic of justice. Then also listen to yourself. As Hardnett said, we become defensive when we feel someone has offended us. It's important to understand why people, including yourself, can become defensive when discussing divisive topics.
LEARN.
Dr. Stowell turns to Isaiah 58 for guidance on social justice issues. Justice is the Lord's. Make time to learn what the Bible tells us about navigating these issues. What Scripture do you or should you consult when confronted with these issues?
LOVE.
As Sattler wisely said, God commands us to live in unity with one another. Though it can be difficult in some circumstances, it is important to respond first with love. At Cornerstone, we are determined to be brothers and sisters in Jesus Christ first and citizens of the world second. By doing so, we bring the kingdom of God to earth and bring light to the darkness.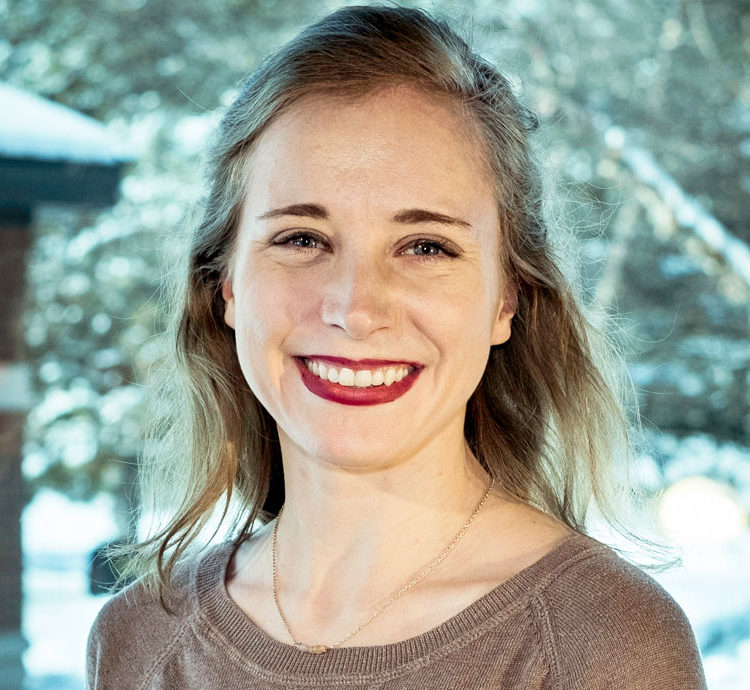 Audrey Wierenga
Audrey Wierenga (B.A. '18) is the copywriter for Cornerstone's Marketing & Communications Office. She graduated from Cornerstone in 2018 with a degree in broadcast communication. Audrey also serves on the Young Alumni Council.
In her spare time, Audrey enjoys working on her own full-length work of fiction, co-hosting a podcast about the Academy Awards and participating in local theatre productions.
Want to Learn More About CU?
Connect With CU