PGS Faculty Recognized for Excellence in Teaching

With a dedication to serving students, Cornerstone University faculty members Steve Graham, Dr. Kai Ton Chau, Dr. Emilie DeYoung and Jill Ellens were recognized for excellence in teaching with annual awards.
Announced during the commencement ceremonies on May 1, 2021, for the Professional & Graduate Studies division (PGS), these faculty awards highlight both the commitment and service of professors to students as well as the professional background and character of the recipients. Student input is also incorporated in selecting recipients.
Excellence in Business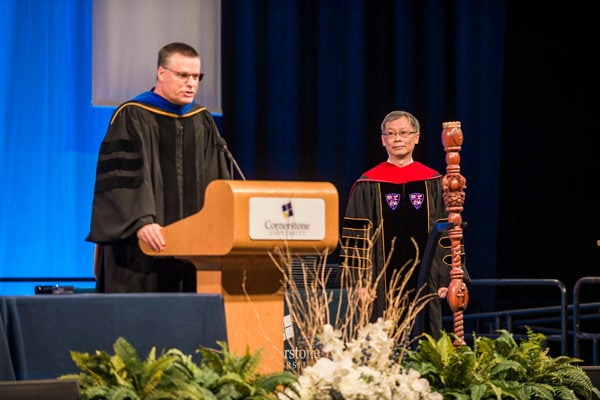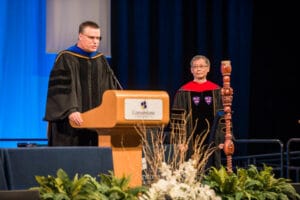 The Kenneth I. Vanderberg Award for Excellence in Teaching was awarded to Chau as the 2020 recipient and to Graham as the 2021 recipient. Both Chau and Graham teach courses in the business division at PGS and bring years of professional experience into the classroom as they inspire and equip their students.
Dr. Tom Heetderks, dean of business at PGS, presented the award and described the criteria for selecting recipients based on "professional competency, personal humility and godly character" and described the recipients as providing a student experience that is "academically excellent, vocationally relevant and Christ-centered."
Chau teaches a range of courses at PGS, including accounting and finance. He holds both a Master of Business Administration and a Doctor of Worship Studies and is also pursuing a doctorate at CU. In addition to teaching, he also serves as a resource developer and a worship ministries leader.
Graham also leads students in advancing their knowledge in business, with courses in areas like human resources, marketing and leadership. He holds a Master of Education and a Master of Business Administration in management. He also holds certifications in both professional coaching and human resources. In addition to equipping students at PGS, he serves as a vice president for marketing and human resources at a media organization and is also the founder and president of a coaching and talent development organization.
"Winning the award was an honor," Graham said. "This award symbolizes my passion for teaching and helping people grow. It is a true service and blessing to help our students reach their goals. I am grateful to be part of Cornerstone and PGS."
Excellence in Human Services
In addition to the Vanderberg award which recognizes business faculty, the Colleen S. Smith Award for Excellence in Teaching recognizes faculty in the human services division. This recognition was awarded to Ellens as the 2020 recipient and to DeYoung as the 2021 recipient.
In presenting this award, Dr. Graham McKeague, dean of human services at PGS, recognized Ellens' and DeYoung's professional experience and the positive and supportive classroom environment they provide for their students.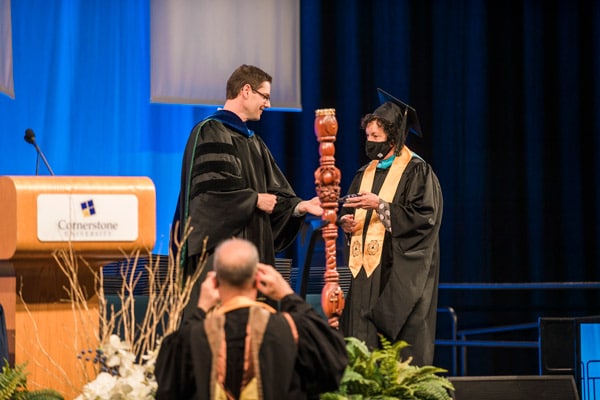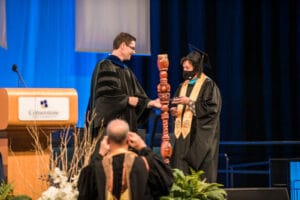 Ellens has been at PGS since 2009 and instrumental in both teaching courses and developing a rich educational experience through curriculum development and program assessment. She's taught courses in areas such as writing, communication and education. In her full-time role, she serves as the member and community life coordinator at a local church.
DeYoung brings years of experience in mental health counseling in her courses of psychology and human services. She is committed to integrating a Christian worldview into her courses as she equips students to meet the needs of their community. In addition to teaching, DeYoung also serves as the director of a family and marriage counseling center.
Ellie Walburg
Ellie Walburg (B.S. '17, M.B.A. '20) serves as the admissions communications coordinator for Cornerstone University's Professional & Graduate Studies division.
Want to Learn More About CU?
Connect With CU