"Work Worth Doing" Inspires Hope in Vocational Callings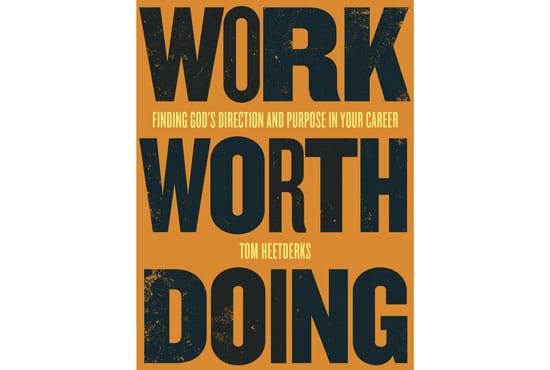 What began as a letter to his children about wisdom in work has transformed into a published book. Dr. Tom Heetderks launched his book, "Work Worth Doing," in April 2020. The new career guidance resource inspires readers to rethink how they approach what they do each and every day.
Heetderks, dean of business for Cornerstone University's Professional & Graduate Studies, weaves his role as a father and his extensive work experience into a collection of insights and wisdom anchored in a biblical foundation.
"Work Worth Doing" explores finding fulfillment in a career that goes beyond the paycheck. Writing from a Christ-centered perspective, Heetderks emphasizes the value of exploring why people work in the broader conversation of career paths and vocational calling.
Extending A Short Letter of Fatherly Wisdom
Heetderks didn't begin this journey of writing a book with the intention of becoming a published author. The concept of his book stemmed from a letter of advice he wrote to his kids—one moving out after college, one in college and one in high school. He knew as his kids grew up and ventured into their own career paths and opportunities, they had some choices to make and decisions to navigate on their own. His letter encouraged them to pursue their careers in the context of God's direction and passion for their life.
But his letter didn't stop with his kids. His insight sparked an opportunity to provide hope for those taking their next step in their careers and lives.
"I was encouraged to extend this father-to-son letter into a book by two close friends from work," he said. "After hearing their encouragement, I stayed up through the night and wrote the first 20 pages of the book. Over the following years, I wrote when I got the chance. I often figured that these added words would not see the light of day."
His contact in Christian publishing thought otherwise. Through encouragement from other writers, leaders in publishing, and vocational counselors, Heetderks realized what he was writing had the potential to meet a need for hope in vocational calling. After revisions, rewrites, and rounds of edits, Heetderks became a published author.
"This faith-based book, along with its unusual orange cover, will always make me smile," he said. "And as I'm reminded daily, thanks be to God, none of us ever works alone. God can use anyone, and He wants to use you."
A Message of Hope in Discerning God's Direction
With years of experience in the business world, Heetderks understands the pressure of work. "You'll devote more time to work than to your leisure, family gatherings, and church meetings combined," he said. With the amount of time spent at work, Heetderks saw it as an ideal space to share hope and wisdom in discerning God's purpose and direction for one's vocational calling.
"I've found that many books about the workplace and vocation are pretty tough to read," he said. "With every word I penned, I pictured my own children and others in college. What was the most important thing to say about our faith, careers, and work?"
While the primary audience for his book is for college students and those beginning in the workforce, the implications of pursuing meaningful work transcend demographics. Heetderks wrote in a way as if he were talking with his children and sharing advice that they could easily grasp and apply to their own life.
Work, he argues, requires a "why," or the reason why someone gets up and moves forward in their career. Finding fulfillment in a job tends to be less about the actual tasks assigned to you but more about how you go about it and for Whom you work for. That, he says, leads to work worth doing.
Through the chapters, he sprinkles in engaging humor and personal stories that bring in practical application. And with a Christ-centered perspective, Heetderks relies on a foundation in biblical truth to spark hope.
Career Wisdom Anchored in Scripture
Through this book, Heetderks addresses common topics and questions about work, all through a biblical foundation. "I hope to answer common questions about work, as well as connect the dots between our God, the worthiness of what you do and who you are meant to be," he said.
To do this, Heetderks weaves in insightful Scripture that solidifies the focus of living out a Christ-centered perspective in one's career and vocational calling. "The living and infallible word of God has a lot to say about work," he said. "Work, in its different forms, is mentioned more than 800 times in Scripture."
Through the example of biblical characters and powerful messages from Jesus, Heetderks paints a picture of what it looks like to engage in work that's fulfilling and cultivates lasting transformation, wherever your career takes you.
"My prayer is that you discover some word, one verse or a thought in the book that will convince you that your work matters a whole lot more than you ever imagined," he said.
You can find his book, "Work Worth Doing," at many bookstores and online, including Amazon.
Want to Learn More About CU?
Connect with CU