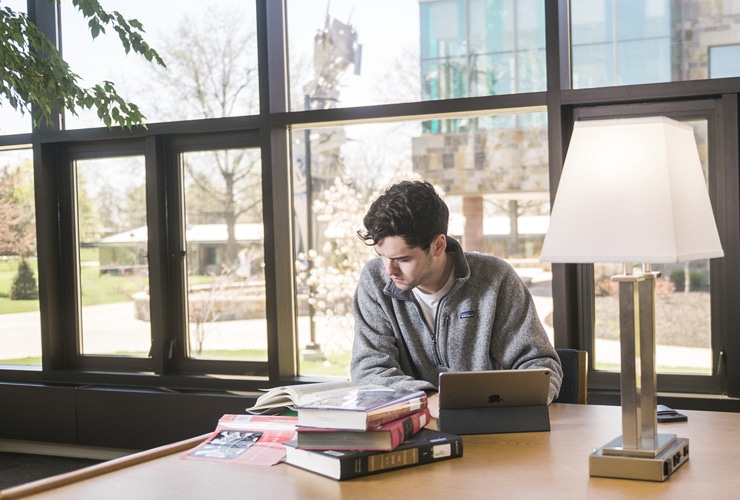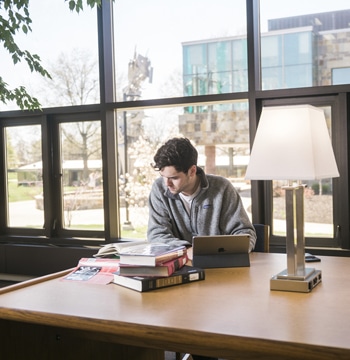 Transfer Credits to CU

Transfer With Confidence
Transferring Credits
Cornerstone University offers generous transfer credit policies that recognize the hard work and investment you've already made in your education. Transfer up to 88 credits in many bachelor's degree programs with satisfactory equivalent course work from other accredited institutions. Graduate-level credit equivalencies vary by program, and enrollment staff will navigate the review of previous course work with the Registrar's Office upon receipt of transcripts.
Michigan Transfer Agreement Partnership
Cornerstone is a partner of the Michigan Transfer Agreement (MTA) through the Michigan Transfer Network. Learn more about what this means for you and your transfer credits.
Credit by Exam
Cornerstone accepts credits earned through CLEP, Advanced Placement (AP), DSST and/or International Baccalaureate (IB). Learn more about how these credits transfer.
Prior Learning Credit
If you've earned credit at other higher learning institutions, many of your credits could transfer to Cornerstone as elective credits. Students may also earn potential college credit if they are able to document learning that has resulted from participating in workshops, seminars, license acquisition, professional schools or other significant learning experiences.
Dual Enrollment
High school students have the opportunity to earn college credit by taking Cornerstone classes at a reduced rate. Courses range across divisions and can be applied directly to a student's degree program.
Undergraduate Transfer Course Requirements
Applicants who are transferring from other colleges or graduate schools are required to have a transcript sent directly to the Admissions Office for each principle academic unit from all colleges and graduate schools previously attended. This is a condition for admission.
After being accepted for admission, an official credit evaluation is placed into the student's file with copies provided to the student and the academic advisor. Transcripts from foreign institutions will be evaluated by an outside agency. The student will be responsible for following the procedure required by that agency.
Cornerstone University will accept transfer credit from the following types of institutions:
All regionally accredited institutions.
All Accrediting Association of Bible Colleges accredited institutions.
All Association of Theological Schools (ATS) institutions (CTS).
All Associate of Biblical Higher Education (ABHE) institutions (CTS).
Non-accredited institutions, if those institutions supply three letters of acceptance from regionally accredited institutions (to the Registrar's Office).
These institutions, due to the nature of their relationship with Cornerstone University: Bob Jones University, Spurgeon Baptist Bible College and Word of Life Bible Institute because they have not met the requirements stated above.
Technical and vocational institutions in the area of liberal arts course work; however, other credits may be accepted in consultation with division chairs.
Students planning to take courses at other institutions to apply to their degree program at Cornerstone University should contact the Registrar's Office to verify the acceptance of these courses.
Transfer credit will not be given for remedial or non-college level work or for any course in which a grade lower than a "C-" was received. GPA does not transfer with the credit transferred. Some transfer credits may not necessarily apply toward a particular degree program. The applicability of credits may be determined in counsel with the appropriate division chair.
Community College Partnerships
Cornerstone has partnered with local community colleges to make your transition seamless. Here, you can find undergraduate program completion and transfer course guides for our partnering schools.
We work diligently to keep information as timely and accurate as possible, but some guides may be out of date while our team works to update them. For an evaluation of how your credits will transfer, please send your transcript with your application.
Undergraduate On-Campus Program Transfer Guides
Undergraduate Accelerated Program Transfer Guides
Grand Rapids Community College
Kalamazoo Valley Community College
Montcalm Community College
Muskegon Community College
Admissions Office
Hours
MON - FRI: 8 a.m. - 5. p.m.
SAT & SUN: Closed
Want to Learn More About CU?
Connect With CU