Celebration of Scholarship 2023 Review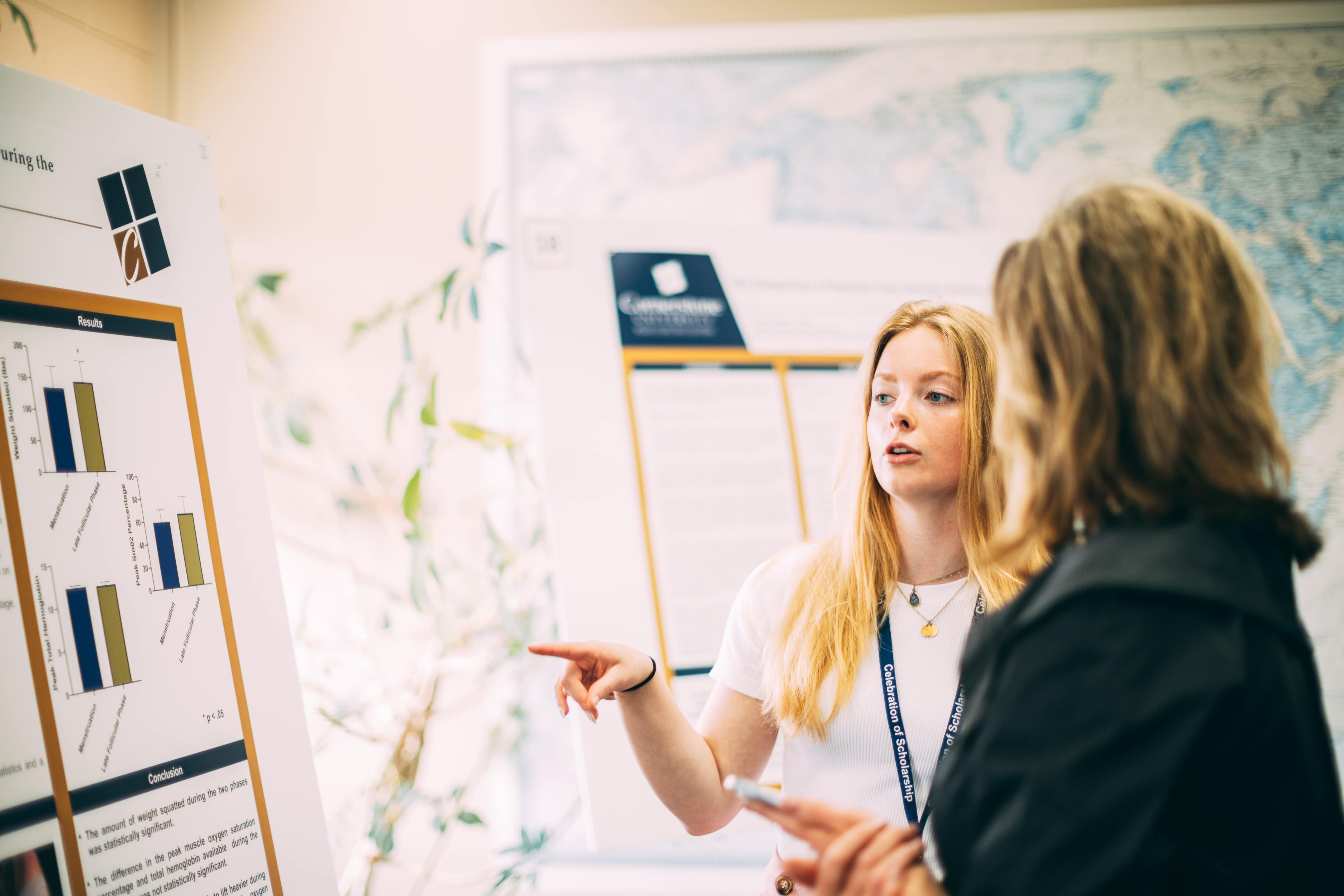 Cornerstone's annual Celebration of Scholarship day recognizes all of the hard work our students put in throughout the year. As a major milestone at the end of the academic year, daytime classes are suspended to allow all Golden Eagles the opportunity to present research findings, give musical performances, display their artwork and host panel discussions with their peers as well as members of the faculty and staff.
"Celebration of Scholarship is a day to celebrate the students and the work they are doing with their minds, to glorify God," said Dr. Michael Stevens, Professor of English and Co-Director of the Creativity and Innovation Honors Institute.
The excitement level was high on Thursday, April 27th as students, mentors, parents, grandparents, faculty, staff and administrators spread out all over campus to engage with over 100 presentations, including:
50 Poster Presentations

28 Oral Presentations

12 Art Presentations

10 Musical Performances
Each student did an exceptional job, congratulations to all! A few featured awards are noted below:
Rebekah Alvaro & Angelina VanderBeek, Social Sciences

The Relationship Between Personal Devotions and Social Anxiety
Jozlyn VanTol, Science & Kinesiology

Acute Effects of Blood Flow Restriction on the Cardiovascular System during Low Intensity Exercise
Garrett Langton, Interdisciplinary

Do Brain Games Make Us Smarter?
Rediet Teklemariam, Business

Market Power and Intel: Competition's Role in Reducing Single Firm Market Share
Samuel Powell, Humanities

At Home in Creation: A Theological and Literary Look at Faithful Living on Earth
Sara Weber, Jenna Fuhs, Cameron Sweers & Parker Szlanfucht, Computer Science, Engineering & Mathematics

Swoboda Inc. Line Improvements
Genesis James, Morgan Martin & Nathan Andree, Teacher Education

Discovering the World of Specific Learning Disabilities through a Christian Worldview
Delaney Berens, Communications, Music & Media

Feria: An Adoption Documentary
Days like Celebration of Scholarship are an excellent forum for undergraduate students to collaborate with faculty, focus on their area of academic interest, and prepare for graduate school and industry settings. Fantastic work to all students who took part in Celebration of Scholarship day! We look forward to seeing what exceptional work is presented next year!
Want to Learn More About CU?
Connect with CU