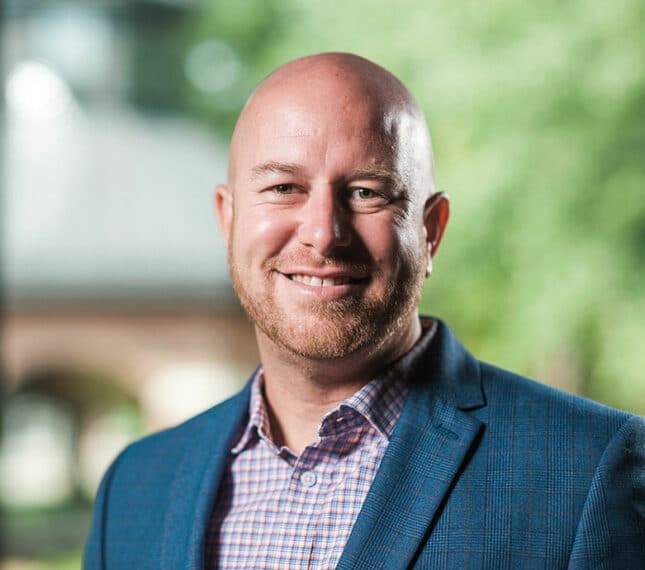 Education
B.A., Communication/Media, Cornerstone University (2004)
Aaron Sagraves
Education
B.A., Communication/Media, Cornerstone University (2004)
Prior to serving as the university's athletic director, Aaron Sagraves worked as the assistant athletic director for external relations and communications at Cornerstone University. A 2004 graduate of CU, Aaron spent seven years as the assistant athletic director for communications at Davenport University. During his time as SID at Davenport, Aaron was named the 2008-09 WHAC SID of the Year and helped the athletic program in various areas, including publications and marketing as well as serving as the co-coordinator of the University Scholarship Golf Classic that has raised over one million dollars for student scholarships.
NAIA-SIDA honored numerous Davenport publications as they named the website (www.dupanthers.com) as its top one in 2012-13. The department also received top-10 honors for their volleyball, men's basketball and men's soccer brochures.
Aaron is a member of the College Sports Information Directors of America (CoSIDA) and served a three-year team as an at-large representative on the board of directors in the college division from 2014-17. Aaron is also a member of NAIA-SIDA and after serving two years as an at-large representative on the board and vice president from 2014-17, moves into the president role from 2017-20.
Aaron has served on the CoSIDA Academic All-American Committee and has been the district coordinator for track & field, basketball and volleyball. Currently, CoSIDA honors academic All-Americans in 12 sports. Aaron also serves on the Scholarship Committee within CoSIDA and has been in that role since 2010.
Prior to going to Davenport, Aaron served in a part-time role under Randy Strawser and Carla Fles in the Sports Information Office at Cornerstone from 2004-07 as well as help coach the CU women's basketball team.
Aaron and his wife Allison reside in Jenison, Michigan with their sons Kenyon and Koleman.
"Serving at Cornerstone has been an incredible experience for me and my family. When I came back to work here, I knew there was so much more to giving back to the students but how they have changed me and the way I raise my family has been awesome! To have the opportunity to help a student through in such a critical time in their life has been a great experience and why I come to work each day. I get to have small part of their story by sharing it with everyone else!"
Hobbies
ANYTHING SPORTS
COACHING MY KIDS' TEAMS
COLLECTING BOBBLEHEADS
Related Research, Posts & More
Want to Learn More About CU?
Connect With CU