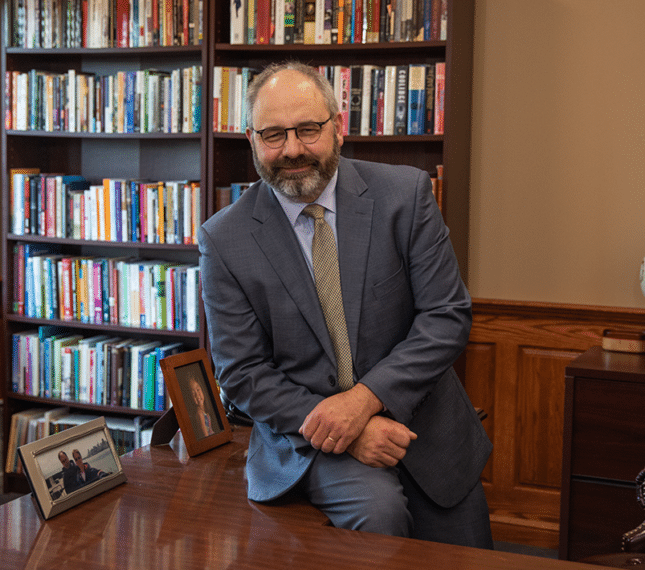 Education
Ph.D., History, Purdue University
M.A., History, Indiana University
B.A., History and Political Science, Indiana University
Research Interests
19th Century Midwest
Conservative and libertarian thought
Higher education
Bradford Sample
Vice President for Academics and Chief Academic Officer
Education
Ph.D., History, Purdue University
M.A., History, Indiana University
B.A., History and Political Science, Indiana University
Research Interests
19th Century Midwest
Conservative and libertarian thought
Higher education
Dr. Bradford Sample serves as vice president for academics and chief academic officer at Cornerstone University. In this role, Dr. Sample drives Cornerstone's preparation for future enrollment growth and market expansion through developing a second-to-none academic student experience, elegantly refining current academic processes and creating an in-demand suite of programs and world-class general education core that position the university as a highly sought after institution of quality, Christ-centered higher education.
Dr. Sample most recently served as provost for Ohio Christian University (OCU) in Circleville, Ohio, and Bryan College in Dayton, Tenn. He is a student of history, having received his Master of Arts in American history from Indiana University and his Ph.D. in history from Purdue University. He has served at OCU, Bryan College and Indiana Wesleyan University in leadership and teaching history courses.
Dr. Sample and his wife, Michelle, have two children.
Hobbies
Reading 19th Century and early 20th Century literature and history
Gardening
Exploring the woods
Publications
"William Jennings Bryan: One of the Last republican Secretaries of State," Swiss American Historical Society Review 48:3 (November 2012): 70-77.
"Joseph Albert Wright, 1849-1857," biographical essay, The Governors of Indiana (Bloomington: Indiana University Press, 2006): 112-123.
"A Truly Midwestern City: Indianapolis on the Eve of the Great Depression," Indiana Magazine of History 97, no. 2 (June 2001): 129-147
Presentations
"Raising Retention Through Academic Coaching," Academies Poster Gallery, 2021 Higher Learning Commission Conference, April 5-9, 2021. Virtual Conference. Presenting Author on behalf of OCU panel.
"Managing Curricula for Rigor, Accreditation, and Staff Sanity," InterLearn Virtual Conference, September 28-29, 2020.
Related News, Events & More
Want to Learn More About CU?
Connect With CU