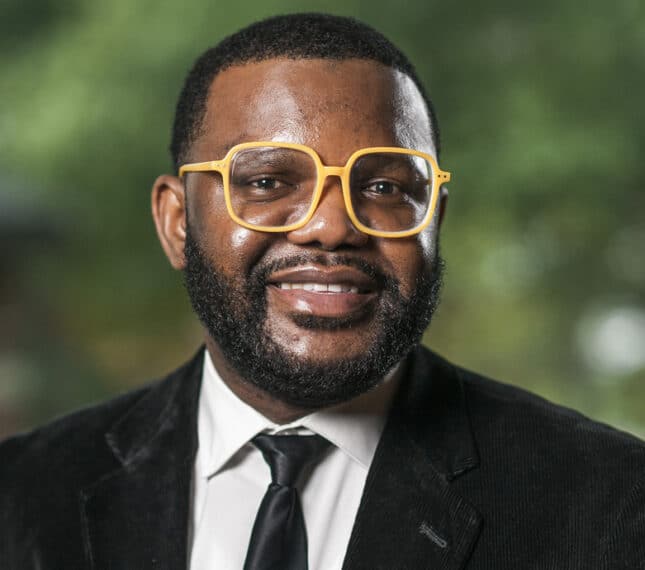 Education
D.M.A., Music Composition, Southwestern Baptist Theological Seminary (2017)
M.M., Music Composition, University of Houston (2013)
B.M., Music Composition, Houston Baptist University (2011)
Desmond Ikegwuonu, D.M.A.
Assistant Professor of Music
Director of Worship Arts
Traditional Undergraduate Communication, Media & Music Division
Education
D.M.A., Music Composition, Southwestern Baptist Theological Seminary (2017)
M.M., Music Composition, University of Houston (2013)
B.M., Music Composition, Houston Baptist University (2011)
Dr. Desmond Ikegwuonu is the director of worship arts and assistant professor of music at Cornerstone University. Dr. Ikegwuonu's music gracefully captivates listeners, conveying a poignant message enveloped in his rich musical heritage. As a composer, pianist, conductor and singer born in Lagos, Nigeria, Dr. Ikegwuonu flourishes in classical, jazz and his Native African music. Dr. Ikegwuonu recently completed a series of works commissioned and funded by the Jewish Community Center Association's Making Music Happen Centennial Grant Initiative, based on curated text from those affected by the Houston floods. The concert was performed at the Kaplan Theatre of the Jewish Community Center. Dr. Ikegwuonu composed a work titled "Welcome Home," commissioned by the Welcome Home Fund organization, commemorating veterans everywhere. Welcome Home's Premiere was given at a Gala Concert in Fort Worth, Texas, featuring the Chapel Choir and Band of Southwestern Baptist Theological Seminary. The Gala concert also featured a premiere of Ikegwuonu's arrangement of "God Bless America" with solo performance by Dr. Leo Day, accompanied by Southwestern Master Chorale; the principal chorus of The Fort Worth Symphony Orchestra.
Dr. Ikegwuonu completed a commissioned piece titled Ekene N'ime Abu for the 50th anniversary season of the Houston Civic Symphony. In April 2017, he received the Academic Achievement Award for scholastic excellence from Southwestern Baptist Theological Seminary School of Church Music. He is a winner of the Lexington Philharmonic Orchestra New Music Experiment. In April 2015, the Lexington Philharmonic Orchestra gave a world premiere of his work "Gaba N'iru," which was also later performed by the Fort Worth Civic Orchestra under the baton of Maestro Kurt Sprenger. He is also a winner of the J.D. Riddle Memorial award at Southwestern Baptist Theological Seminary. Dr. Ikegwuonu conducted the Fort Worth Symphony Orchestra in the world premiere of his composition titled "Chukwudube" at a Gala concert in Fort Worth. His music has been performed in venues as varied as the Truett Auditorium, Museum of Fine Arts Houston, Moores Opera House, Belin Chapel, Heinen Theatre, Tate Hall, Reynolds Auditorium Fort Worth and the Northeast Texas Saxophone Symposium at Texas A&M University.
Dr. Ikegwuonu translated John Newton's "Amazing Grace" to his native Igbo language, which he sang at a concert with the Fort Worth Symphony Orchestra. In the summer of 2015, Dr. Ikegwuonu attended the Atlantic Music Festival summer program in which he had a piece played by the Atlantic Festival Orchestra and a recording of his duo for flute and piano by the Atlantic Festival New Music ensemble. In summer 2016, Dr. Ikegwuonu attended the Charlotte New Music Festival, which featured the premiere of two works "Oganiru N'ime Ogbaaghara" by Bent Frequency and "Kwusi Ibe Akwa" by members of Beo String Quartet. Dr. Ikegwuonu's duo for violin and piano won first place in the 2012 Louisa Stude Sarofim competition. He has been commissioned by The Houston Grand Opera's "Opera to Go!", Aura contemporary ensemble, Musiqa, Fort Worth Civic Orchestra and Southwestern Baptist Theological Seminary School of Church Music.
He was inducted into Pi Kappa Lambda, the only honor society representing the field of music for his outstanding achievements in performance, academic scholarship and service. His short movie entitled "Short Tales on Life's Journey" won the Awsker award for Excellence in Conception and Production. Soprano Melissa Givens, of the Grammy award-winning vocal ensemble Conspirare, gave the premiere of Desmond's art songs "Whisper a Calm" and "A Peek Into Heaven." Dr. Ikegwuonu's song commission for the Houston Grand Opera was featured on the front cover of the Houston Chronicle newspaper and on ABC Channel 13 Houston. Virtuoso saxophonist and Yamaha artist Dan Gelok gave the premiere of Ikegwuonu's concerto for saxophone and orchestra in Houston. His composition teachers include notable opera composer Mary Carol Warwick and Ann Gebuhr. He also studied with David Ludwig, George Tsontakis, Robert Paterson, Eric Ewazen, Joe Locascio, Rob Smith, Marcus Maroney, Christopher Teichler, Ricardo Zohn-Muldoon, Clint Needham and Charles Nichols.
He holds a bachelor's degree in music composition from Houston Baptist University (graduating Summa Cum laude) and a master's in composition from the Moores School of Music. Ikegwuonu earned his doctoral degree in composition at Southwestern Baptist Theological Seminary.
Want to Learn More About CU?
Connect With CU