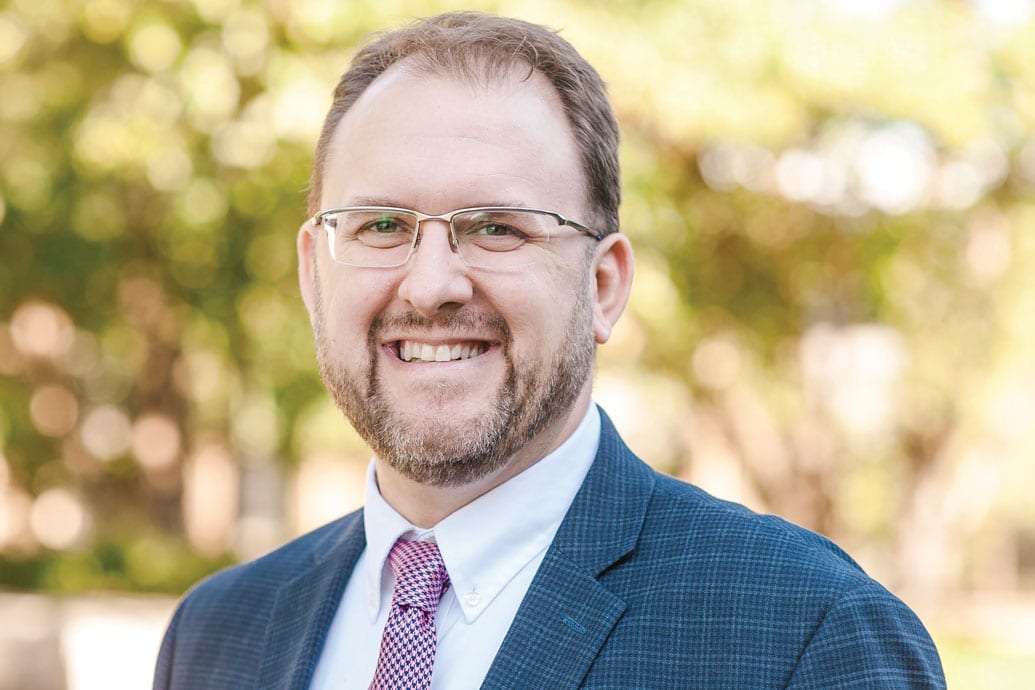 Education
Ph.D. Candidate
M.A., Applied Economics, Western Michigan University
B.A., History for Secondary Education, Western Michigan University
B.A., Economics, Western Michigan University
Research Interests
Monetary policy's impact on culture
Health care economics and pricing models
Inflation's impact on family structure and behavior
Government interventionism as economic injustice
Biblical wisdom literature and poverty
Jeffery Degner, M.A.
Assistant Professor of Economics
Traditional Undergraduate Business Division
Education
Ph.D. Candidate
M.A., Applied Economics, Western Michigan University
B.A., History for Secondary Education, Western Michigan University
B.A., Economics, Western Michigan University
Research Interests
Monetary policy's impact on culture
Health care economics and pricing models
Inflation's impact on family structure and behavior
Government interventionism as economic injustice
Biblical wisdom literature and poverty
Professor Jeffery Degner has a passion for shepherding people toward a love of Christ and the discernment of the truth in the midst of a culture that rejects the Lord Jesus. He built a successful retail career for five years while completing an undergraduate dual major in economics and history, before joining the teaching profession at the secondary school level. While teaching high school students, he served as an adjunct faculty member at Lake Michigan College beginning in 2005.
Professor Degner first joined Cornerstone in the winter of 2018 on the PGS teaching team, teaching Managerial Economics. The following fall, he was hired to join the traditional undergraduate faculty as an assistant professor of economics. He holds a master's degree from Western Michigan University in applied economics. Currently, Professor Degner is writing his dissertation at the University of Angers (France) for a Ph.D. in Economic Science. He has presented at numerous conferences across the country and around the world.
In his spare time, Professor Degner enjoys playing the drums, fishing with friends, reading and spending time with his wife and two daughters.
"The greatest command is to love the Lord our God with all of our heart, mind and soul. Christian higher education, and Cornerstone, in particular, provides students the opportunity to love the Lord with their mind in an especially powerful way. It's my joy and goal to shepherd young adults to receive the Lord's love and care through the truth of His Word and through an ever-increasing understanding of His world."
Hobbies
Fishing
Drumming
Reading
Landscaping
Woodworking
Publications
Quarterly Journal of Austrian Economics: "Family Formation, Fertility, and Failure"
Mises Brazil: Interdisciplinary Journal of Philosophy, Law and Economics: "The Biblical Ethics of Free Market Exchange"
Presentations
Austrian Economics Research Conference (Auburn, AL, March 2019) "The Family in the Inflation Culture"
Economic and Business History Society (Detroit, MI, June 2019) "Hospitalization Pricing in the US: A Disaster 70 Years in the Making"
Mackenzie University Economic Freedom Forum (Sao Paolo, Brazil, November 2019) "The Biblical Understanding of Free Market Exchange"
Austrian Economics Scholar's Workshop at the Sorbonne (Paris, France December 2019) "Inflation and the Family: A Theoretical Overview"
Related News, Events & More
Want to Learn More About CU?
Connect With CU