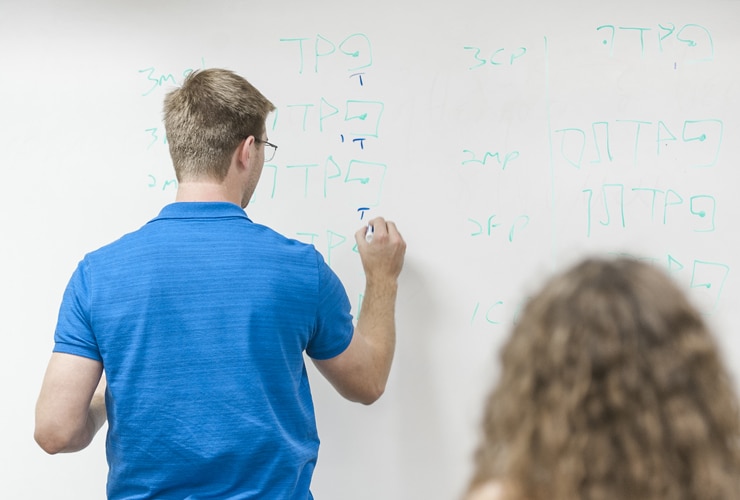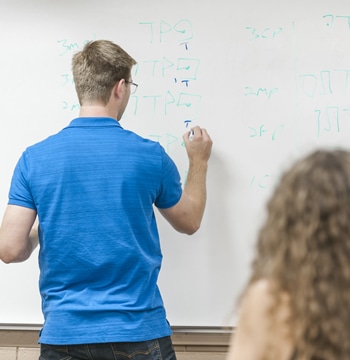 Biblical Languages Minor

Discover New Perspectives
Biblical Languages Minor
A minor in biblical languages can add a transformative dimension to a ministry or biblical studies degree. Through this minor, you will learn basic Greek and Hebrew and then apply what you've learned directly to Old and New Testament readings. Taught by expert faculty who are interested in both your academic and spiritual growth, this minor equips you to study the intricacies of ancient languages.
Internships
Interested in working directly with Bible translators, pastors or publishers while earning your degree? At Cornerstone, you'll take part in an internship experience, whether that's a church or a local ministry. West Michigan is home to countless ministries that value experience in biblical languages.
Opportunities
Wycliffe Bible Translators
Zondervan
Our Daily Bread
Eerdmans
Careers
Biblical languages are a great foundation for you if you're interested in preaching and teaching Scripture, publishing or working for a ministry. Here are a few career paths where biblical languages are highly sought after.
Opportunities
Teaching pastor
Ministry coordinator
Professor
Theologian
Bible translator
Youth ministry
2
Courses each in Greek and Hebrew.
100%
Of your professors have a personal relationship with Jesus Christ.
100%
Of Cornerstone students take part in an internship experience that directly relates to their program.
Course List
Studying biblical languages equips you above and beyond a ministry or Bible degree. When you add an understanding of Greek and Hebrew to your ministry toolkit, you have more insight to help you expound on biblical passages and bring people closer to the heart of God.
GRK-101 Greek I
An introduction to Greek grammar of Koine Greek.
GRK-102 Greek II
A continuation of GRK 101, completing the basic grammar and beginning the reading of simple selections of ancient Greek.
HEB-101 Hebrew I
The fundamentals of biblical Hebrew with special attention to orthography, morphology, vocabulary and the translation of simple texts.
HEB-102 Hebrew II
A continuation of Hebrew I with emphasis given to grammar and expansion of vocabulary by means of translation of simple passages from the Old Testament.
Electives (3 credits)
GRK-210 Readings in Biblical Greek
GRK-336 Septuagint Studies
GRK-4XX Greek 400 Level Course
HEB-210 Readings in Biblical Hebrew
HEB-4XX Hebrew 400 Level Course
Faculty
CU professors are dedicated to the success of our students. Select a faculty member to learn more about their campus involvement, research interests and teaching responsibilities.
Related Programs
Programs in the Bible, Religion & Ministry Division at Cornerstone University are designed for hardworking students who are passionate about God, His word and His church. Explore more degree options in the BRM Division below.
Admissions Office
Contact
P:

F:

616.222.1418
Hours
MON - FRI: 8 a.m. - 5 p.m.
SAT & SUN: Closed
Want to Learn More About CU?
Connect With CU