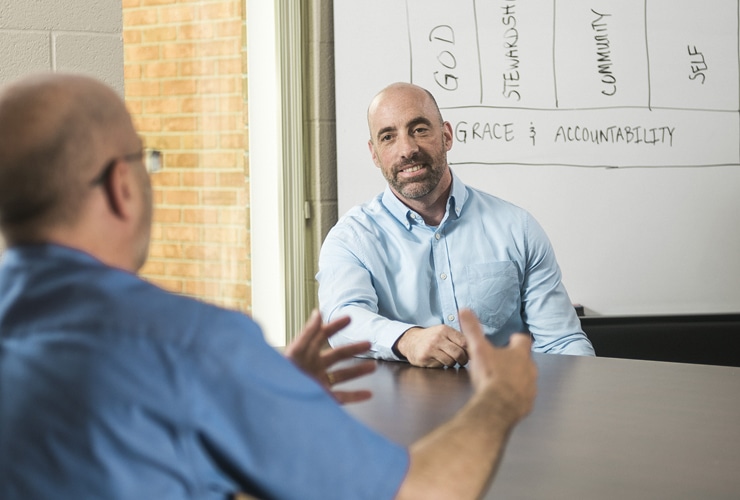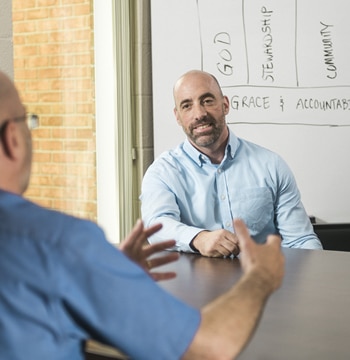 Master of Public
Administration
Master of Public
Administration
You've got the drive to serve others. Match that passion with a master's program designed to give you the tools, knowledge and experience you need to enact sustainable, transformative change within your organization and community. With a Christ-centered foundation, you'll engage as an active participant in meeting both physical and spiritual needs.
Unleash your potential by advancing in areas such as financial management, human resources and organizational leadership. Gain new insight from faculty who serve as expert practitioners with experience in the nonprofit sector. Through a convenient learning model designed for busy adults, you'll be equipped to make positive, data-driven decisions for your community to thrive.
Nonprofit Leadership
Cultivate your vision to achieve a better future for your organization and community. In our Master of Public Administration program, you'll specialize your learning with a focus on nonprofit leadership.
Elevate your understanding of how to effectively build and run a sustainable nonprofit organization. Engage in topics designed for data-driven decisions in areas such as fundraising, strategic planning and marketing.
Admission Requirements
A completed bachelor's degree from an accredited institution
Official college and/or military transcripts
Minimum of 2.7 GPA if less than one year of work experience
Next Program Start
Advance in leadership on your own schedule. With flexible course scheduling, you'll move forward in achieving your degree.
Fall 2023
Classes start on Aug. 30 and Oct. 25, 2023
Spring 2024
Classes start on Jan. 16 and Mar. 13, 2024
90%
Of students work full time while pursuing a degree.
78%
Graduation rate for master's degree programs.
100%
Of faculty members are professing believers of Jesus Christ.
Courses and
Learning Outcomes
The Master of Public Administration program is anchored in a Christ-centered foundation that sets your work in the context of God's broader purpose in the world. In addition to navigating through all core courses, you're able to select a nonprofit leadership concentration for six additional courses.
Core Courses
PAD-501 Foundations of Public Policy
This foundational course introduces students to the concept of the nonprofit sector in America and to the sector's development over time. This is the social and legal environment surrounding nonprofit organizations, which provides both support and restrictions. Emphasis is given to the public policy framework of government partnerships with nonprofit organizations and to similarities and differences between secular and faith-based nonprofits.
PAD-503 Organizational Leadership
This course presents an overview of leadership concepts and theories with an emphasis on their applications within organizations. Special emphasis will be given to motivation, leadership styles, work environment, teamwork, and social behavior on decision-making, communication and leadership effectiveness within organizations.
PAD-505 Diversity, Equity & Inclusion
This course focuses on the importance of diversity, equity, and inclusion in the workplace with attention to a critical analysis of the systemic realities shaping these areas. Emphasis is placed on understanding the individual and organizational needs related to sustainable diversity, equity, and inclusion work.
PAD-601 Research Methods
An examination of research methods available for data-driven decision making within organizations. Focus is placed on the systematic process of collecting, analyzing and interpreting data to answer a specific organizational issue. The course will also introduce students to basic descriptive and inferential statistical tools.
PAD-603 Organizational Behavior
The study of the behavior of individuals and teams within public organizations based on current theory. Emphasis is given to understanding, predicting, motivating and changing work-related behaviors in organizations. Key topics include organizational structure, understanding culture, power, diversity, leadership and communication within the organization.
NPL-601 Financial Management
A study of the key accounting and finance principles that provide leaders with a better understanding of the financial aspects of organizations. Topics include interpretation and analysis of financial statements, budgeting, time value of money and financial planning.
Nonprofit Leadership Concentration
NPL-501 Nonprofit Strategic Leadership
This course explores the theories and practice of nonprofit leadership. Topics include strategies for improved leadership within a team-based context, managing interpersonal conflict, and effective mission-based strategy.
NPL-503 Marketing & Outreach
This course focuses on marketing strategies and principles necessary for nonprofit growth in today's economy. Emphasis will be placed on developing a marketing strategy, brand development, collaborative partnerships and digital communications
NPL-505 Human Resource Management
A survey course that examines the concepts and practices of human resource management. Topics include recruitment, training and development, compensation, managing volunteers, and employee relations.
NPL-603 Advancement & Fundraising
This course covers the principles and best practices of fundraising including fundraising strategy and sources of funds. It will also consider the importance of donor relations, confidentiality, and legal and ethical considerations in fundraising.
NPL-607 Governance: Boards & Structures
This course discusses the elements of board governance in nonprofit organizations and the structures of these types of organizations. This includes understanding the roles of the board, executive director, and other staff, along with an examination of the ways in which organizational structure shapes these roles.
NPL-790 Capstone: Assessment, Planning, & Change Management
This course is the capstone for the program and provides an emphasis on experiential learning within an organization. The focus of the class will center on a project connected to an organizational need related to assessment, planning, and change management. Pre-requisites: all other courses in the program except for NPL-607: Governance: Boards & Structures.
Program Learning Outcomes
Your community needs leaders like you to inspire lasting change built on wise decisions. With a Master of Public Administration, you can be equipped to meet the needs of others through practical, relevant course work anchored in a Christ-centered foundation.
Specialized Knowledge
Students will demonstrate specialized knowledge of and proficiency in the terminology, concepts, practices and skills specific to public administration. In accomplishing this objective, you will be able to:
Demonstrate knowledge of the core theories, principles and practices specific to nonprofit leadership/social justice.
Analyze approaches to effectively address issues related to nonprofit organizations/social justice.
Articulate a philosophy of organizational leadership for leading organizations.
Evaluate organizational structures and behavior for leading nonprofit organizations.
Applied Knowledge and Collaborative Learning
Students will exhibit competency in applying your knowledge to address real-life problems through both individual and group effort. At the end of this program, you will be able to:
Demonstrate the ability to apply theories and concepts for nonprofit leadership/social justice.
Exhibit communication skills that prepare students to be successful nonprofit employees and leaders.
Intellectual Skills
Students will demonstrate their ability to integrate traditional and normative skills, including analytical skills, information literacy, quantitative competency and communication fluency.
Civic and Global Engagement
Students will demonstrate intercultural competence in addressing civic, social, environmental and economic issues within public administration.
Biblical Worldview Integration and Action
Students will articulate a Christ-centered worldview to include its personal, professional and communal embodiment through Christian virtues.
Related Programs
Our programs incorporate a range of opportunities to advance your career and influence both at the master's and doctoral levels. Here are some other pathways related to a Master of Public Administration.
Admissions Office
Hours
MON - FRI: 8 a.m. - 5. p.m.
SAT & SUN: Closed
Want to Learn More About CU?
Connect With CU