Steelcase Employee Honored in Center for Career and Life Calling's First Internship Supervisor Award

Cornerstone University's Center for Career and Life Calling is thrilled to announce the inaugural recipient of its Internship Supervisor of the Year Award. Larry Schafer, the recipient of the 2021 award, works as a project manager for product development and launch at Steelcase in Grand Rapids, Mich.
Schafer is currently the supervisor for Lucas Sharar (B.S. '21), a CU intern at Steelcase who expressed appreciation for and admiration of Schafer and his willingness to help him gain the professional skills necessary to succeed in the workforce.
"As I quickly approach graduation," Sharar said, "Larry has devoted a lot of his time in assisting me with my career search and has connected me with numerous individuals in varying fields of interest who can contribute to my professional development and aid me with my search."
Sharar serves as a product development intern under Schafer and studies business management and marketing at Cornerstone. He is one of several Cornerstone students that Schafer has hired over the years, including Jordyn Roodvoets (B.A. '19) who is now employed full-time at Steelcase. Schafer said that each experience he's had with Cornerstone students has been excellent, and Sharar is no exception.
"Lucas is quite extraordinary," Schafer said. "He's very mature beyond his years. When he became an intern with us, he was ready to go and came prepared with excellent communication skills and the confidence to work through problems with a wide range of people."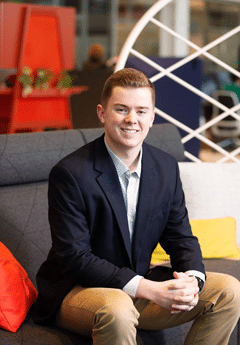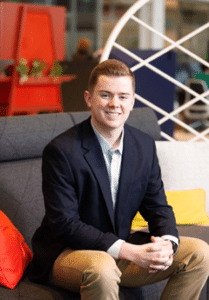 As an intern under Schafer, Sharar feels that he has grown exponentially in his career preparedness by managing day-to-day tasks with product development teams as well as assisting Schafer with big-picture projects such as how to improve the team's processes.
"Larry has devoted countless hours to my professional development and has made me the project manager and leader I am today," Sharar reflected.
Schafer found that he benefited most from Sharar as an intern because of his longevity with the company. Sharar has worked for Schafer for the last two years. This has benefited both Steelcase as a company and Sharar as a soon-to-be graduate searching for jobs.
"Because of my relationship with Lucas," Schafer said, "I've come to really enjoy working with him as an intern. Through Lucas, we've developed someone who can add value to any organization. Pouring into an intern is not simply one person's responsibility. It's a commitment for the entire company."
If you're interested in recruiting a Cornerstone student like Lucas at your organization, contact Anne Gaertner at the Center for Career and Life Calling.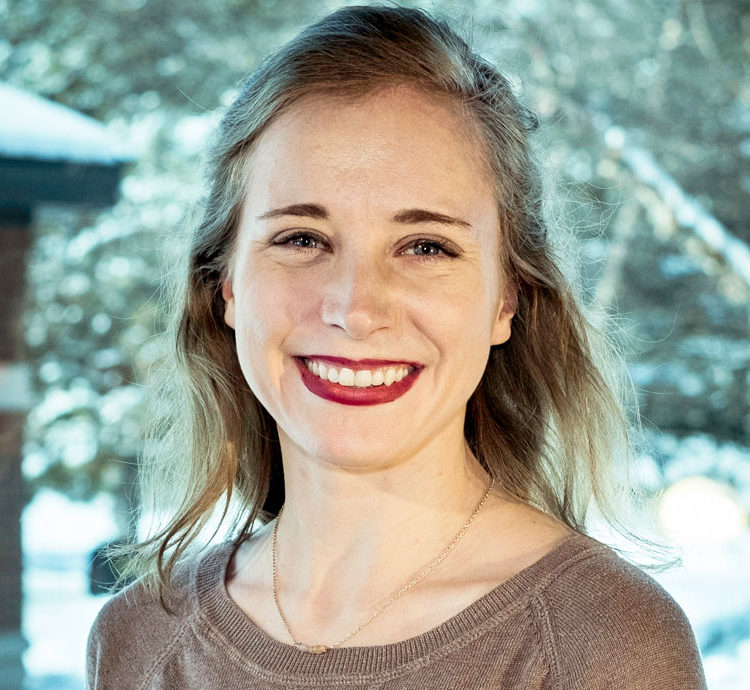 Audrey Wierenga
Audrey Wierenga (B.A. '18) is the copywriter for Cornerstone's Marketing & Communications Office. She graduated from Cornerstone in 2018 with a degree in broadcast communication. Audrey also serves on the Young Alumni Council.
In her spare time, Audrey enjoys working on her own full-length work of fiction, co-hosting a podcast about the Academy Awards and participating in local theatre productions.
Want to Learn More About CU?
Connect With CU