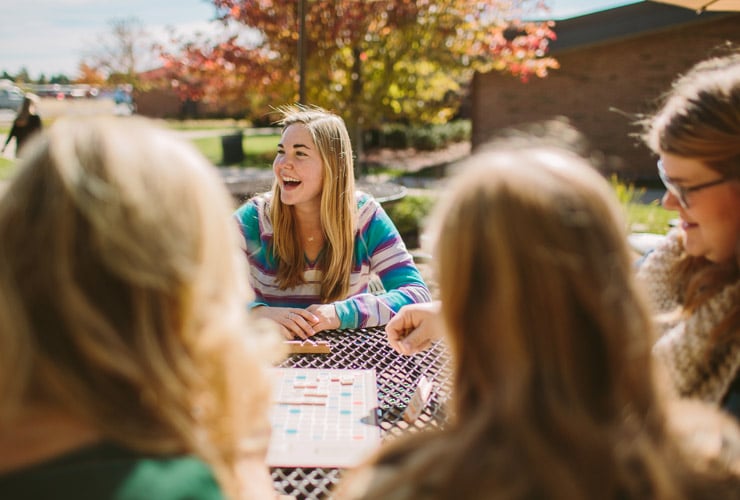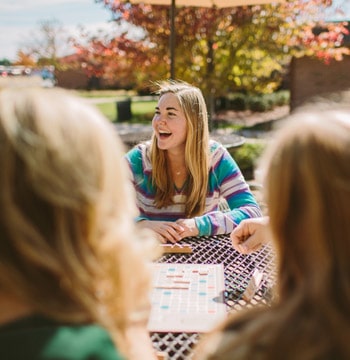 Undergraduate Common Interest Groups

Explore Your Passions
Common Interest Groups
Have a hobby that you're passionate about? Cornerstone University probably has a student organization for you to get involved in! Whether you love throwing frisbees or rolling dice, reading books or lifting weights—or even if you like a little bit of everything—there's a club for you! All of these clubs are student-run, and some are part of a larger organization with connections all over the nation and the world.
Don't see a club that fits your interests? Make one! CU Student Organizations would love to hear your suggestions.
Board Game Club
The Board Game Club hosts game nights in Miller Library (after they close so you can be as loud as you want) that feature more board games than you can imagine. This club is open to all students and hosts events on Friday nights throughout the semester.
Pre-Med Club/CMSA
The Cornerstone Medical Students Association exists to help students majoring in medical programs find internship opportunities, refine their resumes and prepare for graduate school opportunities. Additionally, they invite CU alumni back to campus to share about their medical careers as well as to provide tips for being a successful pre-med student.
Exercise Science Club
This group exists to support Cornerstone exercise science majors through academic support, networking opportunities and more!
Protect Life CU
Affiliated with Students for Life of Michigan and connected with Grand Rapids Right to Life, Students for Life serves as a pro-life advocacy organization that aims to spread awareness of the effects of abortion and to provide support for those in crisis pregnancy situations.
Ultimate Frisbee
An intercollegiate competitive ultimate frisbee team that seeks to promote the sport by teaching skills and encouraging character growth, including sportsmanship, discipline and respect for self and others.
Library Student Advisory Council (LSAC)
A group of imaginative and enthusiastic CU students who show appreciation for the library by making it an increasingly welcoming, student-focused and engaging environment.
BRMSA (Bible, Religion & Ministry Student Association)
Housed within the Bible, Religion & Ministry Division, BRMSA seeks to connect students with service opportunities while providing support to Bible and ministry students.
Land Project
The CU Land Project aims to develop environmental stewards and further God's
kingdom on campus and in the community by empowering students to embody an environmentally sustainable perspective.
737
737 hosts events for students to foster community on campus through music, comedy and spoken word.
CUSO (CU Student Offices)
CU Student Offices (CUSO) is the combination of Student Government and
Student Activities. CUSO works to plan co-curricular activities that vary from leadership conferences to ugly sweater dance parties. CUSO is the governing body of all other student organizations and works with them to make Cornerstone's campus a thriving community.
English Society
The English Society exists to promote literary exploration on campus by publishing The Makeshift Review—CU's literary journal—and organizing literary-themed events.
Historical Society
The Historical Society hosts a variety of student-led events and activities surrounding historical topics and events. This society is a great resource for students majoring or minoring in history but is open to all students.
Multicultural Organization (MCO)
The Multicultural Organization exists to promote biblical awareness of cultural diversity and to embrace intergroup and intercultural differences. Members seek to empower students and communities by sponsoring cultural celebration events and offering opportunities to fellowship with, serve alongside of and learn from people around the world.
Weight Lifting Club
This club exists for strength and fitness-minded students to join together to exercise and cheer each other on in their fitness journeys.
Lead, Ink, Paper
As a part of this creative writing club, you will be encouraged and pushed to develop your ideas and stories into organized, compelling and creative works. All majors are welcome!
Investment Club
This club exists to pull together like-minded students who are interested in learning and putting into practice various investment strategies. This club has been gifted with donations to practice live investments.
American Marketing Association (Cornerstone Chapter)
An organization that provides future marketers with networking opportunities and the resources they need to be successful in the field.
The Hiking Squad
Enjoy the great outdoors by joining this club dedicated to exploring the beautiful hiking trails around the greater Grand Rapids area.
Admissions Office
Contact
P:

F:

616.222.1418
Hours
MON - FRI: 8 a.m. - 5 p.m.
SAT & SUN: Closed
Want to Learn More About CU?
Connect With CU