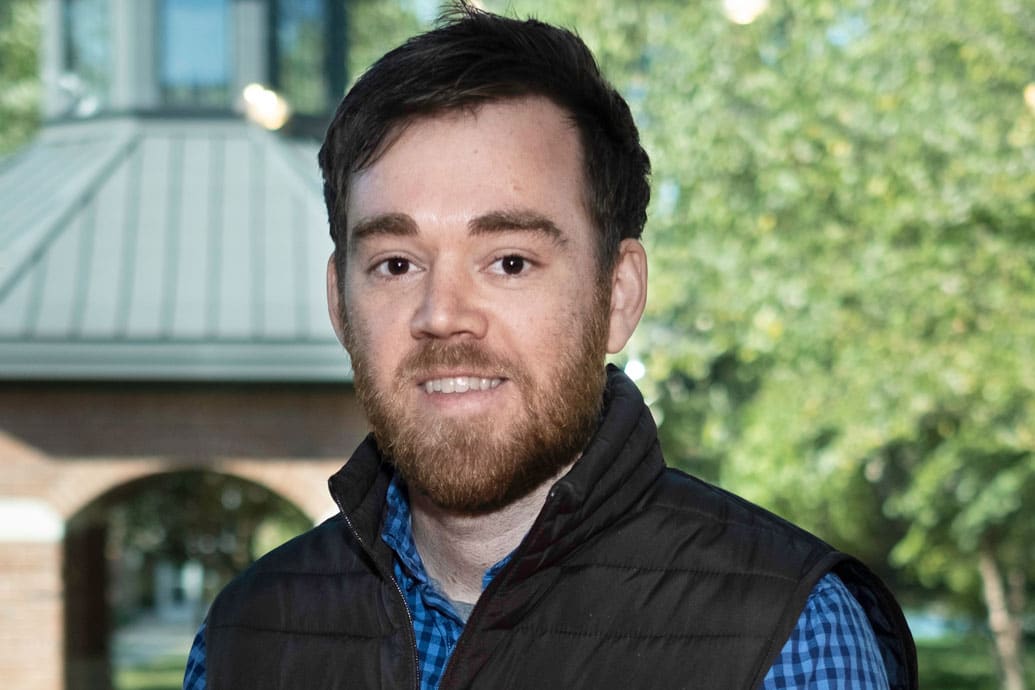 Education
Ph.D., Biology (Ecology), Bowling Green State University (2019)
M.S., Natural Resource Management (Conservation Ecology), University of Michigan (2015)
B.S., University of Toledo
Justin Burdine, Ph.D.
Assistant Professor of Biology
Traditional Undergraduate Science & Kinesiology Division
Education
Ph.D., Biology (Ecology), Bowling Green State University (2019)
M.S., Natural Resource Management (Conservation Ecology), University of Michigan (2015)
B.S., University of Toledo
Dr. Justin Burdine serves as an assistant professor of biology and uses his care for and interest in God's creation to teach and inspire his students. At Cornerstone University, Dr. Burdine typically teaches courses in botany, zoology and microbiology.
Dr. Burdine received his Bachelor of Science in environmental science from the University of Toledo, followed by a Master of Science in natural resource management at the University of Michigan. In 2019, he completed his Ph.D. in biology at Bowling Green State University.
Dr. Burdine's passion for biology and conservation goes beyond the classroom. He has done extensive research on bees in urban environments and is a member of the Ecological Society of America among other professional organizations.
Hobbies
Coffee roasting
Visiting parks and natural areas
Exploring creation with my family
Research Interests
Pollinators
Sustainable food systems
Conservation in cities
Publications
JD Burdine and KE McCluney. 2019. Interactive effects of urbanization and local habitat characteristics influence bee communities and flower visitation rates. Oecologia 190:4:715-723.
JD Burdine and KE McCluney. 2019. Urbanization-driven changes in body temperature and water context for three bee species. Scientific Reports 9:1643.
JD Burdine, E Plummer, M Seidel, and KE McCluney. 2019. Examining mass-length relationships in three bee species of Northwest Ohio. Ohio Journal of Science 118:2:31-33.
JD Burdine and DE Taylor. 2017. Neighborhood characteristics and urban gardens in the Toledo metropolitan area: staffing and voluntarism, food production, infrastructure, and sustainability practices. Local Environment 23(2):198-219.
KE McCluney, JD Burdine, and SD Frank. 2017. Variation in arthropod hydration across US cities with divergent climate. Journal of Urban Ecology 3(1):jux003.
E Lagucki, JD Burdine, and KE McCluney. 2017. Urbanization alters communities of flying arthropods in parks and gardens of a medium-sized city. PeerJ 5:e3620.
JD Burdine, GH Dominguez Martinez, and SM Philpott. 2014. Predictors of leafhopper abundance and richness in coffee agroecosystems in Chiapas, Mexico. Environmental Entomology 42(2):328-335.
Related News, Events & More
Want to Learn More About CU?
Connect With CU