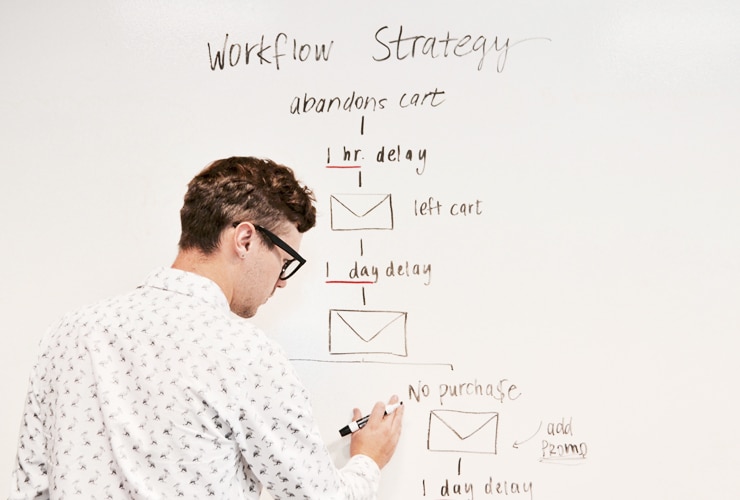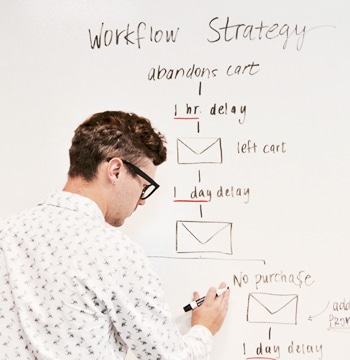 M.S. in Strategic Marketing
PROGRAM START DATES
Classes start on Aug. 30 and Oct. 25, 2023
Credit Hours
36 with up to 27 hours in transfer credits possible


Accredited by the Higher Learning Commission (HLC).
Master of Science in Strategic Marketing
Pursuing an online M.S. in strategic marketing is not just about earning a degree- it's a commitment to evolve as an effective marketing leader. Staying current with the latest marketing trends and strategies alongside proven industry practices helps you adapt to changes in your existing industry or open doors to new opportunities whether corporate, non-profit, entrepreneurial, and/or ministry sectors.
At Cornerstone University, our online strategic marketing degree offers unique benefits that integrate Christian principles into a cutting-edge curriculum designed for emerging marketing professionals. Why choose Cornerstone's online program?
Gain industry expertise in consumer behavior, digital marketing, marketing analytics, budgeting, resource management, organizational leadership, applied sales & marketing.
Expert faculty will mentor and guide you with real-world marketing insights and best practices blended with Christ-centered values.
Flexibility for working professionals is essential, so courses are 100% online.
Affordability is a priority. Our program is one of the most affordable private, non-profit degrees in the region.
Start where you are. Transfer up to 75% in previous credits. No GRE or GMAT is required.
Expand Your Impact with an Accredited Masters in Strategic Marketing Online Degree from Cornerstone University
With over 80 years of experience in traditional and online higher education, Cornerstone University has prepared thousands of business professionals who serve with skill, character, and distinction in corporate, non-profit, entrepreneurial, and ministry roles. Our Master of Science in Strategic Marketing online degree is accredited by the respected Higher Learning Commission (HLC). Our distinguished business faculty offer industry experience in marketing, economics, finance, business management, organizational leadership, and other business foundations that support your learning success.
A Cornerstone marketing degree is distinctive through our commitment to provide an excellent academic real world marketing education taught from a Christian worldview. Our mission is to prepare bold, Christ-centered leaders who will solve tomorrow's business challenges and grow in their faith and influence for a lifetime. What can you expect from a Cornerstone experience?
Leading business faculty with real-world experience who offer one-on-one student support and mentorship throughout your growth journey.
Networking through collaborative online learning environments and on campus business leadership event opportunities.
Accelerated admissions so you can start sooner.
Free student support resources, including writing and math.
A team of knowledgeable advisers to guide you from application to graduation!
Choose from over 75 in-demand degrees, certificates and concentrations to customize the learning you need to fit your career goals.
Admission Requirements
A completed bachelor's degree with a minimum 2.7 GPA from an accredited institution
Official college and/or military transcripts
90%
Of students work full time while pursuing a degree.
10%
Projected growth of employment in the marketing industry by 2030 (Bureau of Labor Statistics, 2022).
7
Each course is seven weeks.
Program Courses and
Learning Outcomes
IDS-5XX Introduction to Graduate Studies
BUS-505 Research Methods
MGT-542 Organizational Decision-Making
MGT-639 Strategic Leadership
FIN-644 Budgeting & Financial Resource Management
MKT-5XX Strategic Marketing Management
MKT-5XX Marketing Ethics
MKT-5XX Professional Sales Management
MKT-5XX Digital Marketing
MKT-6XX Consumer Behavior
MKT-6XX Marketing Analytics
MKT-6XX Strategic Marketing Applied
Specialized Knowledge
Demonstrate specialized knowledge of and proficiency in the terminology, concepts, practices and skills specific to marketing. In accomplishing this objective, students will be able to:
Demonstrate knowledge of the core disciplines of marketing, including strategy, analytics, consumer behavior and sales.
Exhibit understanding of concepts and issues related to the ethical and legal elements of marketing
Applied Knowledge and Collaborative Learning
Exhibit competency in applying their knowledge to address real-life marketing problems through both individual and group effort. At the end of this program, students will be able to:
Successfully use skills and competencies to demonstrate proficiency in digital marketing and analytics.
Apply and evaluate strategic approaches to marketing using both case study and simulation approaches.
Intellectual Skills
Demonstrate your ability to integrate traditional and normative skills expected of students in the liberal arts tradition, including analytical skills, information literacy, quantitative competency and communication fluency.
Civic & Global Engagement
Demonstrate intercultural competence in addressing civic, social, environmental and economic issues within marketing.
Biblical Worldview Integration and Action
Articulate a Christ-centered worldview to include its personal, professional and communal embodiment through Christian virtues.
Start Your Online M.S. in Strategic Marketing Online Degree Now!
An enrollment counselor is ready to help you start your journey today. Cornerstone offers:
Competitive tuition rates—some of the most affordable in the region. 

Credit transfers—up to 75%  in transfer credits possible.

Financial aid advisers to explore funding opportunities for this valuable life investment.
Related Programs
Graduate degrees are in high demand by employers of all industries. Cornerstone's graduate degrees are available fully online and can be taken at your own pace. Explore more of the graduate programs we offer and discover how you can gain the skills you need to stand out in your organization.
Admissions Office
Hours
MON - FRI: 8 a.m. - 5. p.m.
SAT & SUN: Closed
Want to Learn More About CU?
Connect With CU