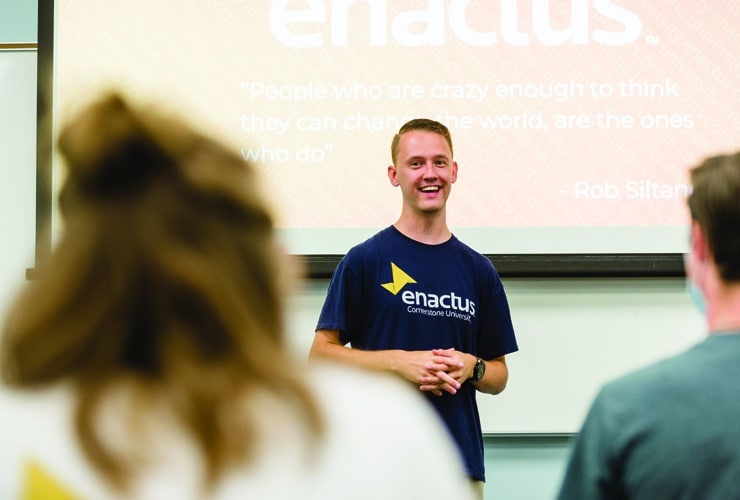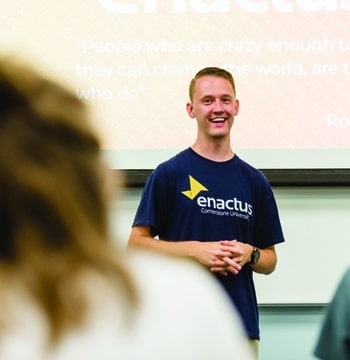 Undergraduate Enactus

Grow as a Compassionate Leader
Enactus
Enactus is a global nonprofit and community of student, academic and business leaders committed to using the power of entrepreneurial action to transform lives. Enactus has over 72,000 student members in over 37 countries. Enactus believes that entrepreneurial action for others creates a better world for us all.
The prospect of changing the world may sound overwhelming, but the student-led Enactus chapter at Cornerstone remains committed to the implementation of sustainable changes in West Michigan communities and around the world. The Enactus team gives CU students opportunities to work toward bringing justice in this world through entrepreneurial initiatives and servant leadership experiences.
Purpose of CU Enactus
This organization is open to all traditional undergraduate students regardless of major. The purpose of CU Enactus is to utilize the talents and passions of student leaders to meet the needs of today in a manner that is sustainable for tomorrow. Team members benefit from networking, leadership training and global-minded projects.
Entrepreneurship Projects
College students in CU Enactus take the lead on creating sustainable solutions to real-world problems in West Michigan and around the world. More than just professional development experience, CU Enactus uses students' collective strengths, drive for hard work and unwavering compassion for underserved populations to bring evidence of long-term change in communities around the globe.
Exam Survival Kits
Exam Survival Kits, a fundraiser for CU Enactus, give parents and guardians an opportunity to send a hassle-free, timely care package to their Cornerstone student. With on-campus delivery provided the week before exams, the Kit includes snacks, treats and other surprises to make late-night study sessions for finals just a little bit better.
Each semester, the CU Enactus team sells and packages more than 200 Exam Survival Kits to help support other projects!
Esperanzart
Since 2018, CU Enactus has worked with Esperanzart, an organization that sells handmade jewelry from artisans in Ecuador and provides them with a sustainable income.
Student volunteers from Cornerstone manage social media accounts for EsperanzArt, take pictures for use in their online store, monitor on-campus inventory and ship orders.
AfricaWorks
AfricaWorks, a non-profit organization located in Swaziland, is working to end poverty. Through funding bee farms for local farmers to harvest honey, CU Enactus is helping this organization and resourcing individuals with tools to have a sustainable income.
Student volunteers help create a sustainable fundraiser, serve as communication liaisons with AfricaWorks and market other involvement opportunities to the Cornerstone campus community.
Student Leadership Roles
The CU Enactus team annually presents the results of entrepreneurship projects to business leaders at the Enactus USA National Competition. If selected for a top award, the team is rewarded with seed money for next year's projects. One team from Enactus USA is selected to participate in the Enactus World Cup.
Leadership Team
The CU Enactus leadership team is a small group of dedicated students who encourage and support the CU Enactus team by casting a vision, recruiting team members planning meetings, managing resources and supporting project leaders throughout the academic year.
Whether you're a passionate visionary or a grit-filled servant leader, the Enactus leadership team will help you gain meaningful experience in management and communication.
Presentation Team
The CU Enactus presentation team has the privilege of representing our team at annual Enactus competitions and events. This team is tasked with presenting the results of our projects to a panel of business leaders, CEOs and entrepreneurship experts from Enactus' various partner organizations.
Members of this team gain public speaking experience and build confidence through presentation.
Media Team
Student volunteers selected for presentation and media teams gain relevant work experience and sample work to add to their portfolios. The teams represent CU Enactus to external stakeholders, visually document progress on projects throughout the year and help project leaders with their media and marketing needs.
From media-focused positions to public speaking opportunities, students can choose from a range of extracurricular roles.
Presenters
Photographers
Videographers
Graphic designers
Copywriters
National Competition
Enactus holds annual events to showcase entrepreneurial action and innovation that is transforming lives and creating a more sustainable world. These events allow Cornerstone Enactus students to network with teams from other colleges and universities, gain confidence as they present the results of their work and be encouraged by business professionals from Enactus' partner organizations.
Competition Awards and Recognitions
Since its start in 2010, the CU Enactus chapter has consistently received honors, accolades and awards at regional and national competitions.
Regional Championships
2018 Enactus Regional Championship (Chicago, Ill.)
2017 Enactus Regional Championship (Rosemont, Ill.)
2016 Enactus Regional Championship (Lombard, Ill.)
2013 Regional Competition Champion
2011 Regional Competition Champion
Other Awards
2021 Enactus Excellence Award: Excellence in Social Media Presence
2020 Online National Exposition Second Place Opening Round of Competition
2017 National Exposition Third Place Finish in League (Kansas City, Mo.)
2016 National Exposition Second Place Finish in Opening Round (St. Louis, Mo.)
2015 National Exposition First Round Finalist
2014 National Exposition First Round Finalist
2012 Regional Competition First Runner-Up
2010 Regional and National Competitions Rookie of the Year
Want to Learn More About CU?
Connect With CU