Exam Survival Kits
Encourage your students and bring them some joy this semester by ordering an Exam Survival Kit. Each kit includes a unique assortment of candy, stress-relieving items and snacks—all delivered with a personalized note from you. All packages will be distributed before finals week.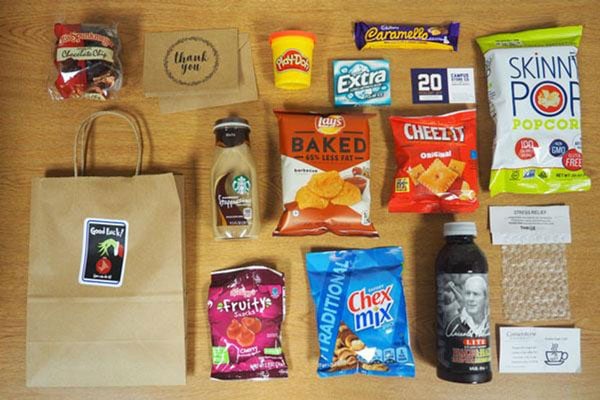 Exam Week Survival Kits are a bi-annual initiative of Enactus, a student-led organization that utilizes the talents and passions of CU student leaders to meet the needs of today in a manner that is sustainable for tomorrow.
The price is $20 per kit for the spring 2022 semester.
Gluten-Free or Nut-Free Options
To reserve an Exam Survival Kit that is gluten-free or nut-free, type "Gluten-Free" or "Nut-Free" in the comments box under the personalized note to your student.
Exam Survival Kit Order Form
To order an Exam Survival Kit for a Cornerstone student, complete the order form below by April 26. After you submit your contact information, please scroll all the way to the top of the form and input your payment information.
The order deadline for spring 2022 Exam Survival Kits has passed.
Want to Learn More About CU?
Connect With CU