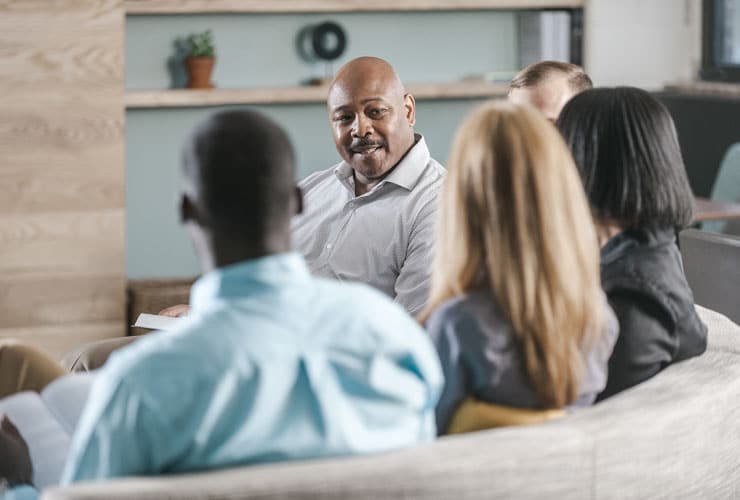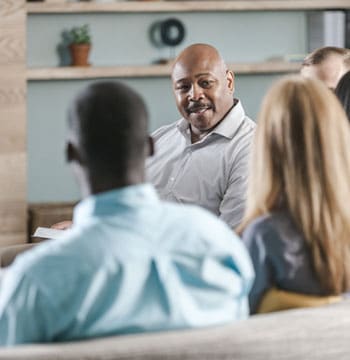 Master of Divinity (M.Div)
PROGRAM START DATES
Classes start on Oct. 25, 2023
Classes start on Jan. 16 and Mar. 13, 2024
Credit Hours
75 WITH UP TO 66% OF CREDIT HOURS TRANSFERABLE

Association of Theological Schools (ATS)
Master of Divinity
Expand Your MInistry Effectiveness With a Master of Divinity (M.Div.) Online Degree
You have been called to ministry. Now prepare to be sent. The Master of Divinity online degree program at Cornerstone Theological Seminary will equip you with the necessary tools that you will use throughout your lifelong ministry with God's people. Cornerstone's M.Div. program partners with the church to educate and equip called persons to effectively prepare them to be sent to lovingly lead and serve Christian ministries and spread the gospel throughout the world.
Deeply explore core foundations

such as Biblical exegesis in Greek and Hebrew languages, Biblical theology and hermeneutical principles, intensive studies in the Old and New Testaments, systematic theology, and church history. 

Cultivate robust ministry theology applications and engagement

such as

preaching, evangelism, discipleship, praying, pastoral care, and leadership skills.

Learn with respected professors, scholars and theologians

who excel in their Biblical and theological disciplines and are also

active pastors,

elders, and ministry leaders in their churches. Each experienced the journey, like you, from being called to being sent in effective church ministry.  

Generous scholarships and aid

are available to help you finish your degree.

100% online courses*

to allow you to continue in your ministry. No GRE required.

One of the most affordable degree programs

available per credit hour.

Course formats are 7 weeks.

Language courses and ministry residency practical training courses are 15 weeks.
Why Choose An Affordable, Accredited Online M.Div. Degree from Cornerstone Theological Seminary?
Character, Competency, Compassion.
For over 80 years, Cornerstone Theological Seminary has built an outstanding reputation for equipping pastors, scholars, teachers, theologians, military chaplains, and ministry leaders as servants of Christ's Church to lead communities with character, competency, and compassion. The seminary unwaveringly embraces Biblical Scripture which is central to Cornerstone University and the seminary's foundational statements and doctrinal confession, honoring God's vision of the world.
A decades-long partner and resource to churches and pastors, Cornerstone Theological Seminary is accredited by the respected Association of Theological Schools (ATS),* and Cornerstone University is accredited by the Higher Learning Commission (HLC). Cornerstone offers over 75 in-demand degrees that can enhance your theological training by preparing you for bold, influential ministry effectiveness, a doctoral degree, or offer specializations that meet your specific Christian ministry training needs to bring the gospel to life in your community.
Join the Cornerstone Theological Seminary community. Start your online M.Div. today! 
Knowledgeable, passionate advisers are ready to guide you from application to graduation! A respected Master of Divinity degree can elevate your ministry and community impact:
Courses are offered 100% online

to fit your busy ministry life.

Transfer up to 66% credit hours

out of the degree total. 

Tuition is priced for affordability

compared to other private nonprofit universities and seminaries, ensuring that a degree can fit your budget.

Experience one-on-one faculty support

from current theologians, pastors and real-world ministry leaders. 

Free student support resources

are available—including writing, math, spiritual and mental health services, and more—to provide holistic support!
*The Commission on Accrediting of the Association of Theological Schools (ATS) in the United States and Canada accredits Cornerstone Theological Seminary.
Admission Requirements
A completed bachelor's degree with a minimum 2.7 GPA from an accredited institution
Official college and/or military transcripts
No GMAT required
Courses
The M.Div. program at CTS is designed to transform your heart and mind for a life of ministry through a rigorous academic and spiritual formation process. M.Div. students will earn 75 credit hours in the following subjects.
Bible and Languages Core Courses
The Bible core of the M.Div. program consists of 33 credits. This sequence will equip you to study the Bible in its original language and context. Some of the courses you may take include the following:
BBL-510 Greek I: A study of the elements of Koine Greek.
BBL-511 Greek II: A continuation of Greek I with exercises in reading
the Greek New Testament, introduction to NT Textual Criticism and the use of basic lexical and syntactical tools.
BBL-516 Hebrew I: An introduction to the basic grammar and vocabulary of biblical Hebrew.
BBL-517 Hebrew II: A continuation of Hebrew I with emphasis on grammar, syntax and expansion of vocabulary by means of translating simple texts.
BBL-501 Biblical Hermeneutics: An introduction to the process of determining the original meaning and contemporary significance of biblical texts.
BBL-514 Old Testament Foundations
BBL-515 New Testament Foundations
BBL-672 N.T. I: Intro to Exegesis: An introduction to the theory of translation and practice of exegesis. Selections in the Pauline epistles are used to apply grammatical and hermeneutical principles of Greek exegesis.
BBL-677 N.T. II: The Gospels: Students will become aware of the rudiments of historical, source, form, redaction and literary critical methods. They will also develop their own skills in the exegesis of Gospel texts with a view to biblical theology and the ministry of the word.
BBL-678 N.T. III: The General Epistles: An introduction to the study of Hebrews, the General Epistles and Revelation, emphasizing Greek exegesis and biblical theology. Students will consider the historical setting of these books and develop their exegetical skills by working with selected texts.
BBL-640 OT I: Introduction to Hebrew Exegesis: An introduction to the methods of Hebrew exegesis, including textual criticism, syntactical and discourse analysis and lexical studies, with further development of skills in translating and understanding Hebrew narrative.
BBL-641 OT II: Exegesis in the Pentateuch: This course engages questions of composition, ancient history and culture, New Testament correlation, contemporary challenges to religion and ethics in the Old Testament, as well as the relevance and communication of the canonical message of these texts to contemporary culture.
BBL-642 OT III: Exegesis in the Prophets & Writings: A study of the content and biblical theology of Joshua through Malachi, including exegesis of selected texts from the Prophets, Psalms and wisdom literature. This course engages questions of composition, ancient history and culture, New Testament correlation, as well as the relevance and communication of the canonical message of these texts to contemporary culture.
Theology Core Courses
Through historical, systematic, moral, and philosophical theology students consider the context of the Bible as developed by God's people in the history of the church and in contemporary cultures. Theology builds on the foundation of biblical exegesis with an aim to support the proclamation of the Gospel to the world.  
THE-501 Program Introduction Seminar: This course prepares students for the rigors of graduate scholarship by honing the skills of graduate research, reading and writing

THE-540 Systematic Theology I: This course introduces and practices a metanarrative for doing theology. The biblical narratives and propositions are heard in the context of the story that begins with creation, is centered in Jesus' first coming and reaches its culmination in the new heavens and earth

THE-640 Systematic Theology II: This course continues our metanarrative theology by examining the Christian story of creation, fall, redemption and consummation, with special attention given to the nature and task of humanity, the distortion of the world through sin and the redemptive work and person of Jesus Christ and the Holy Spirit.

THE-641 Systematic Theology III: This course will examine in detail the doctrine of salvation (soteriology), the church (ecclesiology), the basic elements of pastoral theology (internal and external call to the ministry, ordination, ministry of the word and sacraments, church discipline and pastoral spiritual formation) and the four last things (death, judgment, heaven and hell).

Theology Electives (9 credits)
Ministry and Spiritual Formation Core Courses
Ministry courses guide the student to integrate biblical and theological studies into a philosophy of ministry for Christian service. Ministry programming equips the student to engage in practical theology through the proclamation of scripture, the spiritual formation of believers, and the extension of biblical witness to people around the world.
MIN-500 Christian Spiritual Formation: An investigation into the meaning of biblical Christianity and its relationship to faith and practice within contemporary cultural contexts. Special attention is given to the corporate dimensions of spirituality and spiritual formation.

MIN-685 Ministry Residency I -The student will get acquainted with their specific ministry culture. Through the student's ministry, interaction with their mentor, contact with other ministry residency students and their own personal reflection, the student will lay a foundation for their journey in a ministry context while gaining feedback that will help them in preparation for ministry. Upon successful completion of this course, students will be able to articulate goals for personal growth and ministry competency, track and evaluate their time management, establish the discipline of journaling and reflection, apply regular feedback from their mentor and be relationally connected with their ministry context as they invest time and energy in establishing relationships and support.

MIN-686 Ministry Residency II Students will explore the importance of one's personal spiritual formation in ministry (e.g., discipline of confession, dealing with grief, ministry burnout, ministry leader self-care, the discipline of simplification, etc.). Students will engage their ministry mentor on the following topics: leading board/committee meetings, strategic planning and facilitating staff meetings.

MIN-781 Ministry Residency III Explore ministry areas including classroom teaching; pastoral duties (e.g., funerals, pre-marital counseling, weddings, etc.); implementing a ministry initiative; cross-cultural immersion/engagement; and focusing on specificity of ministerial call.

General Electives (9 credits)
Faculty
The M.Div. faculty at CTS have decades of teaching and ministry experience and are prepared to both teach you and mentor you as you prepare to serve faithfully in God's church.
Related Programs
The Master of Divinity at Cornerstone Theological Seminary is one of several ministry-focused programs at CTS. Take a look at the other related programs at CTS.
Admissions Office
Hours
MON - FRI: 8 a.m. - 5. p.m.
SAT & SUN: Closed
Want to Learn More About CTS?
Connect With CTS