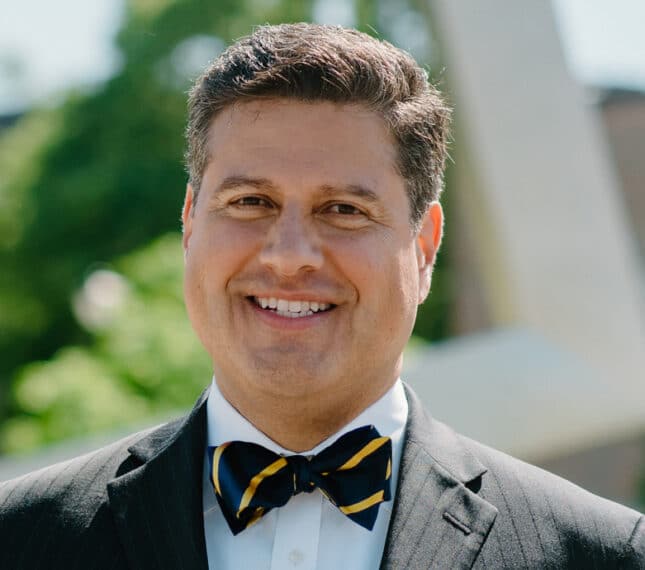 Education
Ph.D. Political Science, University of Cincinnati
M.A. Political Science, University of Cincinnati
B.A. Political Science and Pre-Seminary Biblical Studies, Cedarville University
Research Interests
History of political philosophy
Government
Political theology
Gerson Moreno-Riaño, Ph.D.
Education
Ph.D. Political Science, University of Cincinnati
M.A. Political Science, University of Cincinnati
B.A. Political Science and Pre-Seminary Biblical Studies, Cedarville University
Research Interests
History of political philosophy
Government
Political theology
Dr. Gerson Moreno-Riaño serves as Cornerstone University's 12th president. With a passion for academic excellence and a commitment to Christian higher education, Dr. Moreno-Riaño has a proven track record of strategically positioning Christian higher education in a global marketplace.
Dr. Moreno-Riaño was most recently executive vice president for academic affairs and chief academic officer at Regent University in Virginia Beach, Va. While there, he led a talented team of deans, faculty and enrollment staff that helped double the student population and grew the enrollment by over 70%. While at Regent, Dr. Moreno-Riaño was also a tenured professor of government.
Born in Colombia, South America, Dr. Moreno-Riaño came to the United States at the age of nine with his family, where they lived in New York City. He felt the call to lifelong ministry at the age of 14 and has followed it ever since. Dr. Moreno-Riaño is a graduate of Cedarville University in Cedarville, Ohio, where he received his Bachelor of Arts in political science and pre-seminary biblical studies. He then received his Master of Arts and Ph.D. in political science from the University of Cincinnati.
Prior to joining Regent University, Dr. Moreno-Riaño began teaching as a graduate student at Xavier University in Cincinnati, Ohio, followed by a tenured teaching position at Cedarville. He is the author of six books and has edited and written chapters for several others.
Dr. Moreno-Riaño is happily married to his wife, Ellen, and father to six children: Isaac, Victoria, Abraham, Emma, Abigail and Zachariah.
Professional Memberships
Member, American Political Science Association
Member, Société Internationale pour l'Étude de la Philosophie Médiévale
Fellow, Lehrman American Studies Center
Fellow, Foundation for the Defense of Democracies
Fellow, Center for the Study of Democratic Citizenship
Awards and Recognitions
John Witherspoon Lecturer Award, the Family Research Council (2011)
2nd place, Templeton Enterprise Award, Templeton Foundation and the Intercollegiate Studies Institute
Publications
"A Companion to Marsilius of Padua" (The Netherlands: BRILL, 2011)
"The Prospect for Internet Democracy" (New York: Routledge, 2009)
"Tolerance in the 21st Century: Prospects and Challenges" (Washington, D.C.: Lexington Books, 2006)
"The World of Marsilius of Padua" (Belgium: Brepols Press, 2006)
"Time and Eternity: A Medieval Discourse" (Belgium: Brepols Press, 2003)
"Political Tolerance, Culture, and the Individual" (New York: Edwin Mellen Press, 2002)
Related News, Events & More
Want to Learn More About CU?
Connect With CU