Recap: Wisdom Conversations at Cornerstone University

One only has to look at the comments section of any social media page to see that Americans disagree on a lot of topics. Look further, and you'll also see that we don't always disagree in ways that are respectful of one another.
On Monday, April 25, Cornerstone University hosted the inaugural Wisdom Conversations, titled "Reconnecting With One Another: Humility, Truth And Loving One's Neighbor In A Divided America." Throughout the course of the evening, Gerson Moreno-Riaño, Ph.D., president of Cornerstone, and three well-respected panelists attempted to get to the heart of the division currently plaguing our nation. Moreno-Riaño was joined by Ross Douthat, conservative New York Times columnist; Noah Feldman, Harvard law professor; and Mary Ann Gomez Orta, president and CEO of the Congressional Hispanic Leadership Institute (CHLI).
"Our lives have been upended. What do we believe? Who can we trust?" said Moreno Riaño at the onset of the event. "The division we have faced has caused social distancing on steroids."
Nearly 300 attendees—including students, faculty, staff, local leaders and community members—listened with rapt attention to the four panelists who held varying perspectives on politics, religion, culture and pathways to change.
By launching Wisdom Conversations, Cornerstone seeks to model true wisdom through a biblical approach—fearing the LORD (Prov. 9:10) and acknowledging that every good gift is from Him (James 1:17). In this way, the event addressed questions of how to resolve the division in our communities, homes and nation with grace, humility and truth.
Each panelist described their own experiences living in the reality of a divided America. Orta, who works in Washington, D.C., shared experiences of being excluded from speaking at or attending events simply because her organization is bipartisan. CHLI provides scholarships and leadership opportunities for young Latin Americans across the country. She often finds herself telling these young people that "compromise" is not a bad word, despite what the current climate might make them think.
Douthat, as a conservative columnist for a left-leaning news organization, has always been tasked with "translating" for both sides of the aisle and providing reasonable discourse regarding current events. After the upheaval of summer 2020, however, his job of translating has become more difficult, but he doesn't think we should lose hope.
"I live in rural Connecticut in a neighborhood full of Harvard and Yale professors," he said. "If I was taking the temperature of our nation based on my interactions with my neighbors, I'd say things aren't as bad as they seem. But for the last few years, our lives have been lived online."
There was a consensus among panelists that the isolation of the COVID-19 pandemic exacerbated the division that was already seeping through the cracks of American democracy. Feldman, a professor, constitutional scholar and Bloomberg opinion columnist, noted that "things are not normal and no one is okay." When his own former colleague, Amy Coney Barrett, was nominated to the U.S. Supreme Court, he praised her moral character and knowledge of constitutional law—and was eviscerated by his colleagues and students for it.
"You can no longer say what's important—'I like you. I respect you. But I don't agree with you,'" Feldman said.
During the evening, the panelists discussed the origins of this division, how it can be overcome and the role of faith in Jesus Christ in healing this division. The panelists all believed that there is a deep craving for moral truth in our country—truths that some attempt to seek outside of the gospel. According to Feldman, there is an undercurrent of anxiety for those of all beliefs and faiths that it won't be strong enough to sustain them or hold up to someone's arguments.
"If you truly believe something," he said, "you're safe to be exposed to things you disagree with. You're able to be exposed to a challenge because faith can withstand doubt and uncertainty."
Moreno-Riaño concluded the night with a question he cited from Chuck Colson, a deceased attorney and political adviser—"Can we be good without God?"
"No," Orta responded. "We cannot move forward without a God at the center because we are all broken little sinners. We've used religion for evil, but now we have to use it for good."
"Embrace the model of Christ," Feldman said, "His love and openness. The power of that model enables emulation. It has enabled the emulation of billions of people around the world."
"Christians should be able and willing to lose with confidence," Douthat said, "because you have the ultimate confidence in your faith. You can lose because Jesus already won."
By rooting ourselves in the truth of Scripture and standing firm in the love of God, Moreno-Riaño said, we can be charitable toward those who do not hold our views—to respect one another, although we disagree.
"The greatest message from the LORD is John 3:16," Moreno-Riaño said, "and it is the greatest charity clause for a pluralist society."
The next Wisdom Conversations event will take place on Thursday, Oct. 27. The theme and speakers are forthcoming.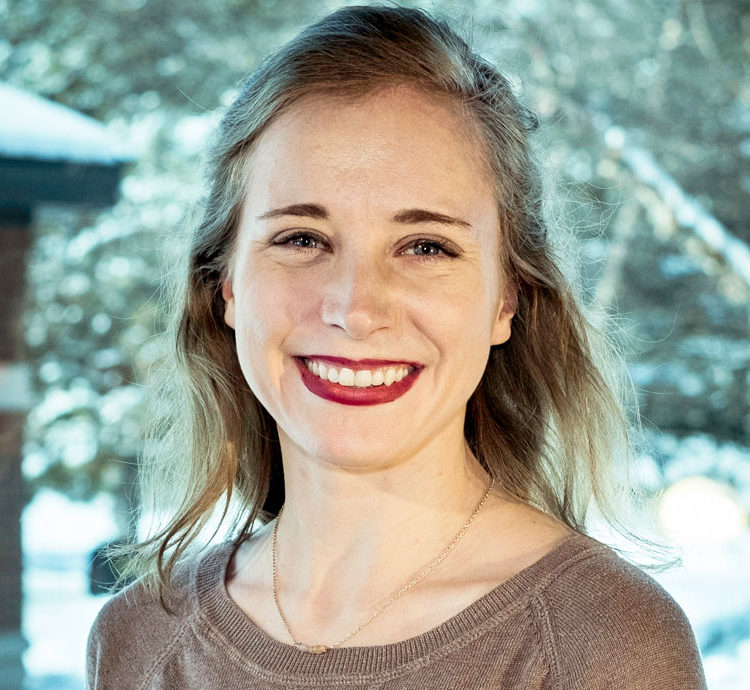 Audrey DeBoer
Audrey DeBoer (B.A. '18) is the copywriter for Cornerstone's Marketing & Communications Office. She graduated from Cornerstone in 2018 with a degree in broadcast communication. Audrey also serves on the Young Alumni Council.
In her spare time, Audrey enjoys working on her own full-length work of fiction, co-hosting a podcast about the Academy Awards and participating in local theatre productions.
Want to Learn More About CU?
Connect With CU